Joanna's take on... La Société
Today, I write my first restaurant review for Inside Toronto and I am thrilled to have this opportunity. I am always asked where do I eat? Where should I go for this occasion? I need a quiet place. Where is the best burger? So many questions today I will start to answer some of these. This review page is dedicated to restaurants to go to, not bad ones.
Because I am in the industry I will rarely call out a place publicly unless they are mind bogglingly bad. I will devote this to where I think you should go and I will tell you what I have eaten. It may or may not be on the menu when you go but it does give an idea of the types of food served. I will make comments in regards to small details for you to think about when ordering. This will become clear as we travel down the restaurant path together.
Today I am writing about La Societe at 131 Bloor St W. in Yorkville. This restaurant is large and stunning. The zinc bar along with many décor elements was shipped in from Paris. They have 2 levels of wonderful patio in the summer and no matter what time of the year it is a fun place to watch the glitterati. For years I have gone for a glass of wine, possibly some oysters from their seafood bar but up until recently the food has been grossly inedible. Now, I said I wasn't here to tell you where not to go so listen up.
In walk Chef Romain Avril and what he has done is nothing short of miraculous. I have now had a few lunches and dinners and not always has Chef R known I was in.
The service has been fairly good. They could use a little bit more professionalism. When I get up in a place like this I like my napkin folded, I like the service to be a little less rushed and abrupt but it is certainly not to a level that it takes away from the ambiance and food.
Some of the lovelies I have eaten at lunch have been one of the best French Onion Soup's in The City. It was voted number one by Taste Toronto, http://tastetoronto.ca . The broth is super beefy and rich with loads of onions, well toasted baguette and oozing, melted, slightly browned cheese. A Croque Madam was sure to please with its runny egg. I do not like a sunny side up egg, I like mine over easy to cook the loose whites and this was done to perfection. Lots of thinly sliced ham, crusty bread, cheese and eggs. Paired with crispy frites and homemade mayo.
One night my dinner was over the top. We asked Chef R to just "feed us" and that is exactly what he did. We had 2 tartars; a tuna and beef and both were totally different with garnishes that worked individually. On to a lovely beet salad and a leafy green with Bleu cheese.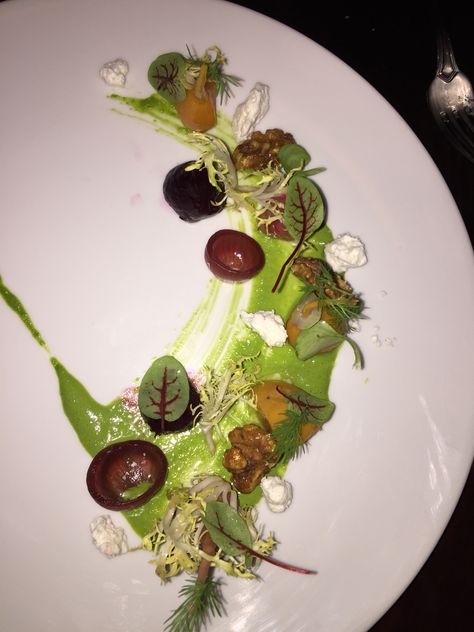 A divine rack of sous vide lamb was as perfect as it could be with the richest of sauces.
Desserts are where Chef R really shines. A very memorable one was the Sticky Toffee Pudding with Oatmeal Ice Cream and Crispy Sweet Granola. The other was a Chocolate Praline number with so many delightful components.
Now, I also one night just wanted a simple burger and theirs did not disappoint. It was medium rare as I asked since they grind their meat in house. The bun was lovely holding everything together. My only point would be that the burger came with a thick slice of tomato and nothing else. Tomatoes in Toronto are not always in season and this one was mushy. It needed lettuce and paper thin raw onion, it needed zip. This is my thought to the kitchen. You can have yours with cheese and bacon but that is just not my scene.
Do go, let Chef Romain know I sent you and then take pictures, let me know how you liked it.
La Societe
131 Bloor St W #211
Toronto, ON
M5S 1R1
(416) 551-9929