Ascari the race car driver,
Ascari Enoteca the restaurant.
by Joanna Sable | August 16, 2016
Start with some of your favourite people; add great food, stir, a touch of the wackiest wine list and blend. Voila, Ascari Enoteca was born.
Meet John Sinopoli and partner Erik Joyal. As John puts it, Erik is the brains behind the business, and I guess that makes John the heart, and in the restaurant industry you need a whole lot of both.
Ascari was a restaurant born, many years before it came onto the Toronto food scene, in a classroom at university, because of Erik's undying passion for racecars and their drivers. Alberto Ascari was one of Italy's greatest Formula 1 drivers and one of the world's most passionate eaters and drinkers. His passion for La Bella Vita was well known and nicknamed Ciccio (Chubby) brings the message home.
I believe I have been eating at Ascari since it opened its doors just over five years ago. It is always busy, filled with a very ecletic mix of folks, and that is part of the allure. Clearly the food is the other. Ascari prides itself on homemade pastas, made lovingly in the old world fashion and the sauces always show respect for the noodle. The menu is very reasonable and whether you are vegetarian or a meat eater, I promise you will leave happily satiated.
Meet Annette, Ascari's GM and sommelier. Most likely Annette with her gorgeous red lipsticked smile will great you at the door and then, if you are the least bit curious about one very cool wine list, she will be the one helping you navigate it. Annette has worked under many of the best in Toronto including Svetlana Atcheva who opened the wine program at Ascari and fun loving Jamie Drummond who is also known for his avant garde style.
The wine list is printed weekly as it is ever evolving. The night I was there we started off with 2 very cool Rose, which at this time of the year are my happy place. A 2015 Coteaux du Languedoc, France and a 2014 Rose de Xinomavro, Greece, crisp and flavourful. I must admit to being very happy to see such a stellar Greek wine.
With these 2 first glasses in hand little nibbles were needed. and First up each and every time I go here is the Crostini alla Toscana; chicken liver mousse with pickled onions and crispy sage. I like my livery stuff to have that full on liver flavour. Creamy pate, the bite of the onions and the earthiness of the sage make this a brilliant bite. Our other crostini was a Crostini al Tonno; olive oil poached albacore tuna loin, smashed white beans, pickled red onions and chives, again, a great balance of flavours and textures. Insalata Verde sounds ho hum but it isn't. A tangle of shaved and marinated zucchini with seasonal seedlings and a healthy dusting of ricotta salata makes this anything but ordinary.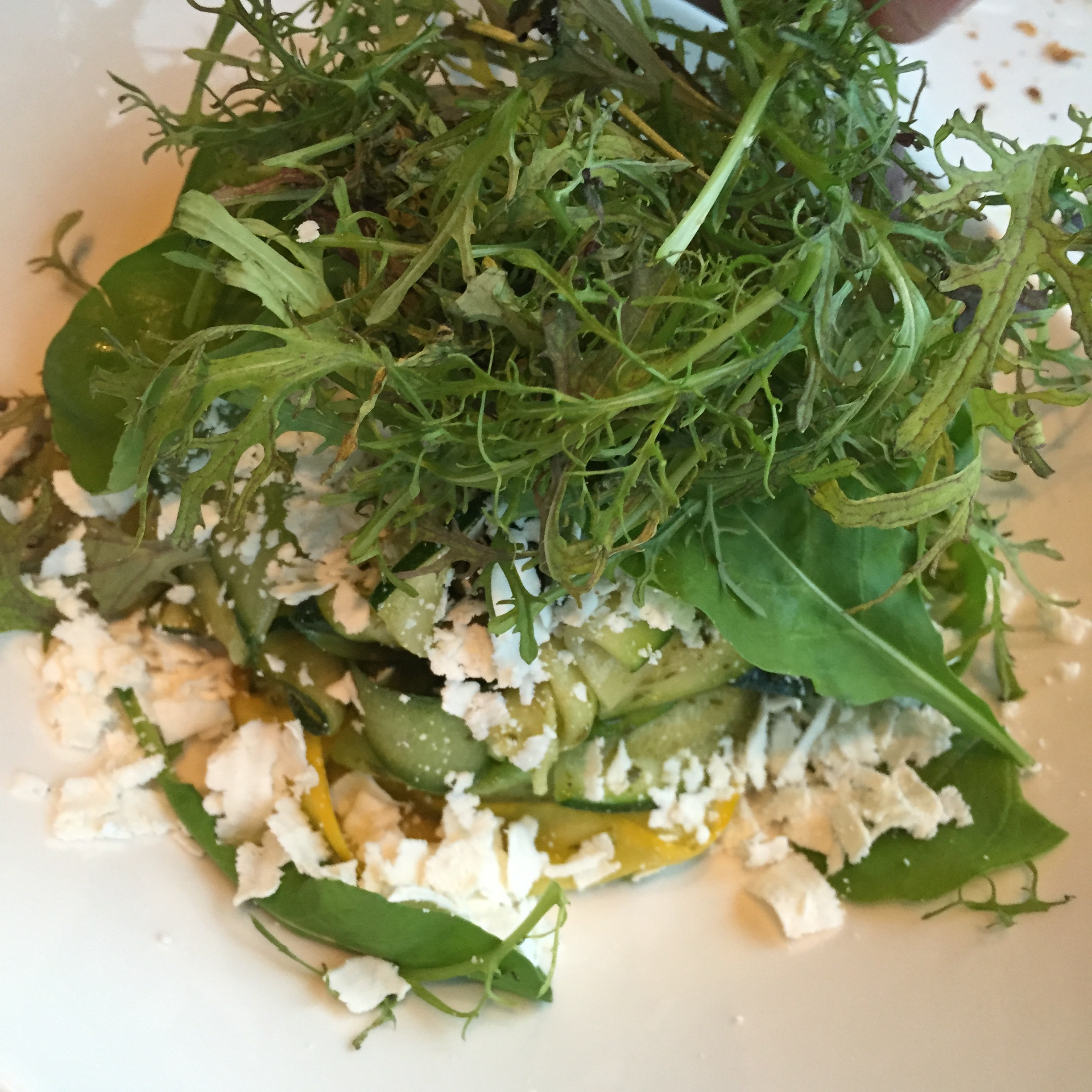 We did not have the Broccolini Fritti as it for me is a more cold weather food, but, if you want the crispiest most insane veggie then grab it; raw broccolini in a super light batter deepfried and covered in lemon zest and freshly grated pecorino.
Pasta time and I always have the special. I don't care what it is, it is mine and tonight was no different. It is seasonal; it is thoughtful and always spot on. Tagliatelle with sautéed chanterelle mushrooms, farm fresh shucked corn, torn tarragon and beurre fondu, speechless except I want more. John insisted we have the Agnolotti and when the chef says eat I say yes. Buffalo milk ricotta filled pillows, fava beans, preserved lemon, shallot, mint and olive oil. This pasta was rich but delicate; I think it would be an incredible sharing plate.
Last up, a classic; Spaghetti alla Chitarra, is what it sounds like, guitar strings. This is hand made by pressing pasta through a tool that looks like guitar strings. It makes the pasta a little wavy and seems to help hole the sauce to it. Yes, John is Italian and from the south, and John has a Nonna and happily Nonna taught John how to make a perfect tomato sauce and this plus a little micro basil and pecorino di Sardegna is all that is needed. A judge of any great Italian chef is this very simple sauce as if not balanced perfectly, falls flat, is too runny or just plain bad. That is certainly not the case at Ascari.
Desserts are simple, good and creative. A lemon semifreddo topped with fresh seasonal berries and a hit of candied ginger was just right. On the other hand the canoli, which also changes seasonally, feels a little flat. This is usually not the case, so, I like you will defiantly give it a go. If the kitchen is making it with Sea buckthorn, a tart passion fruit like berry grab it, as the tart is a perfect foil for the creamy ricotta.
John and Erik are starting a new venture at Broadview and Queen west, it is in the works and 'hush- hush', but, I know whatever they do it will be a smashing success.
Bring the family, have a romantic dinner, sit at the bar, or come visit on Wine Killas - that is late night fun with half price bottles and cool DJs. Ask for my table, number 7, it is close to the back and fun to watch the action in the kitchen, or Annette's picks, numbers 20 and 24 near the window. Now matter where you sit, the service will be great as will your entire night.
Please let me know your thoughts when you visit Ascari and if you have any questions do check in.