At home with Irene Matys of
The Spicy Olive
by Joanna Sable
 
"Oh my gosh, are you Joanna Sable? " This was the voice of Irene Matys across a noisy, people jammed incredibly popular Queen West restaurant, Lisa Marie at brunch one Sunday. I truly wasn't sure what to do. Did I know this woman? Had I said something terrible on Instagram? What? Turned out she was a follower and wow is she one awesome lady. Her passions and enthusiasm were infectious that day and still are.
I asked her what her background was and she said that she was born in Cyprus. Irene is an incredible blogger, recipe writer and home cook then and there I decided I wanted her to be a Great Ethnic Home Cook and she agreed.
Irene lives in a lovely neighbourhood in Oakville but it wasn't always this way. Irene started life in Northern Cyprus where her Grandfather had a huge amount of olive trees and made most of the olive oil for the entire region. Irene told of how in summer, Ya ya, Grandmother would bake beautiful breads and they would dip ripped pieces into her Grandfathers fresh olive oil "underneath the olive branches". I can picture this stunning idyllic scene. However, in 1974 the Turkish Army came and decimated the Cypriots from the north and put them in holding areas for days. Irene remembers that at five years old she was making chicken with her Grandmother when the sirens went off and soldiers grabbed the entire family. They were fired at, bombs going off, living on soup and salami. They were the fortunate ones who found their way to the UN camps in the south. Irene's father was lost to them for 6 months. He was one of the lucky ones. He was placed in jail where the guard who watched over him became friends with him. The soldier helped him escape.
Irene's mother was very industrious and while in the camp she needed to find a way to get enough money together to move to Canada where she had sisters. She took photos of her children, Irene being one, and posted them on a CARE site. A Doctor in the US saw the photos and sponsored them. Two years later they moved to Canada. Life wasn't all rosy for Irene's aunts as they were not even middle class and now they had even more mouths to feed. Irene's Dad took a dishwashing job in Sarnia and eventually bought the restaurant and Irene's Mother worked in a factory and soon started her own seamstress business. They put two children through University this way.
Irene and her family were Soup Kitchen attendees and when she was small would be very ashamed of this. Irene's Mother said, "Never be ashamed of being hungry and having food."
Irene now helps an incredible farm called Plan B Organics. She looked for the poorest farm and started fund raising and working with her children's school on fundraisers and healthy eating. Irene's entire family's mandate is to give back and then do it again.
On this snowy day when I dropped by, Irene was a warm cozy welcome. She has a lovely kitchen with plenty of light and a big rustic wood table meant long meals and conversation.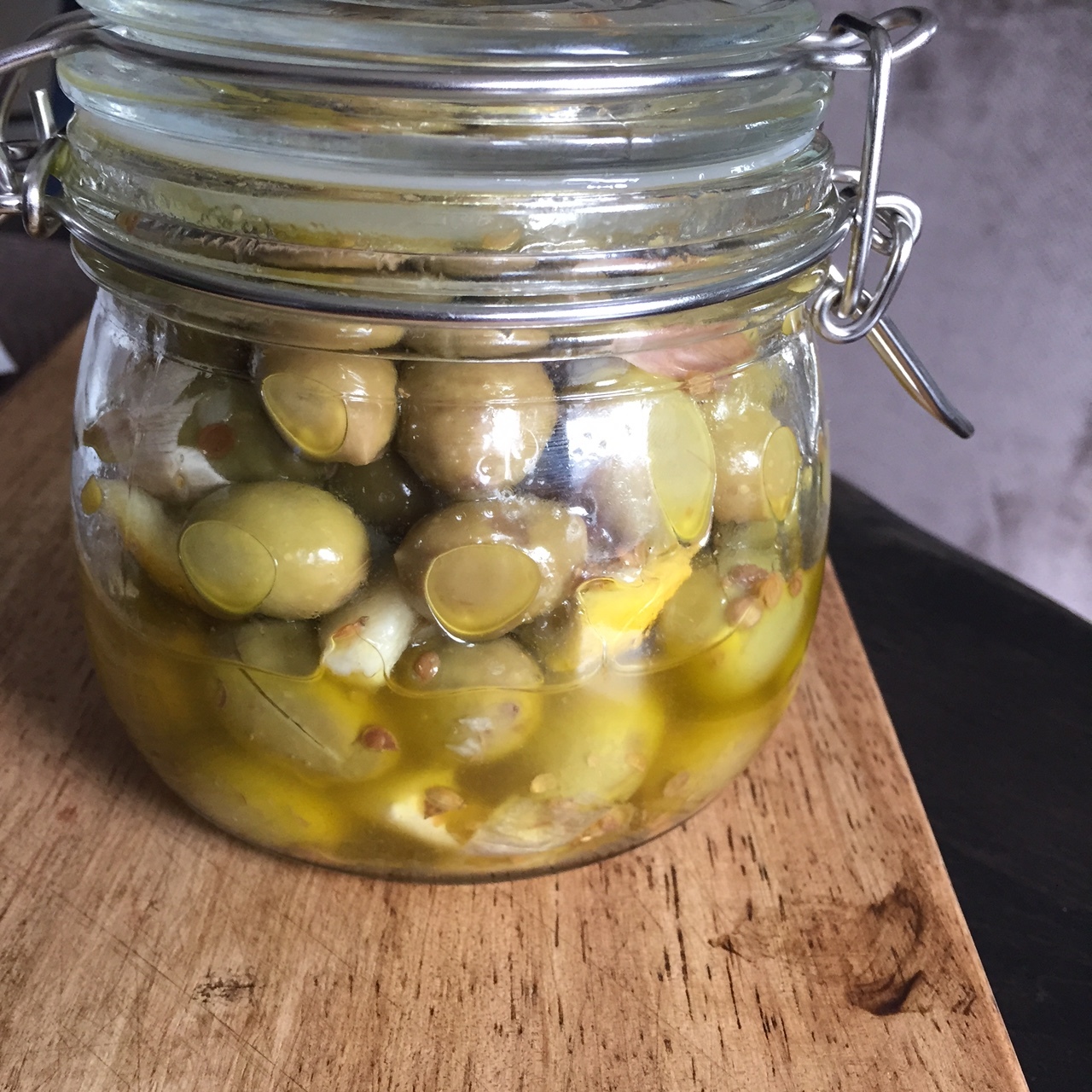 I was handed a coffee and what looked like a croissant. I bit in and it was crazy, filled with the prefect bite of black olives. Irene was bubbling over talking about Cyprian cuisine and the flavorings of it. As she talked I listened and it resonated with me. This too was a cuisine of invasions, of many cultures becoming one. It had the flavours of the Middle East; Israel in particular with French-fries in the kebabs. The breakfast she made was full on Turkish in its savoury style and hints of Morocco with cinnamon in the Sheftalia, kebabs we later made.
Breakfast, no not the wicked olive croissants, was a party. A huge board filled with slices of cucumbers, wedges of plum tomatoes, a wicked 3 day red wine soaked sausage that was fried, squeaky, browned halloumi and Irene's very special Garlic and lemon marinated olives. To say I was happy is an understatement. While we nibbled we discussed today's main attraction, how to make Sheftalia, a lamb caul fat wrapped seasoned pork sausage and all the accompaniments for it.
Sheftalia
Ingredients
½ pound lamb caul fat soaked in 2 tablespoons of white vinegar and topped with water about the caul. Caul fat can be obtained at most Middle Eastern or Greek butchers; specialty butchers will be able to get it for you as well. It freezes well so buy extra and store in freezer bags.
2 ½ pounds lean ground pork
1 medium onion, finely diced
½ bunch of washed and dried flat leaf parsley, finely chopped
½ teaspoon ground cinnamon
2 tablespoons kosher salt
2 tablespoons ground pepper
½ cup breadcrumbs
Juice of one lemon
Method
Mix all ingredients except caul fat together in a bowl. Bowl on the left of a large cutting board, caul fat on the right and a shape knife for cutting available. We are going to make an oval meatball and wrap it in caul. This will keep them incredibly moist and once cooked creates a paper-thin layer that sort of snaps when eaten. One thing to know, there are areas of the caul that are thick and fat, discard it. I promise when you see this spider web like substance you will know what I am talking about. Each cylinder is about the length of your middle finger and as fat as 2 fingers together. Lie out a piece of the caul on the board and place the meatball on one end. Roll up just enough to cover the whole meatball and then cut the caul and repeat. This amount of ingredients will make enough for well over 40 balls. Irene then takes 2 metal skewers and lines up the sheftalia and places the skewers through each of them. This will make them much easier to flip on the grill.
Heat up the bbq and they take about 15 to 20 minutes.
While I was hanging around playing, listening and learning Irene decided to have a little fun and we "modernized" the sheftalia by adding 1 cup of her chopped garlic and lemon green olives and the zest of 3 lemons to the same exact meat mixture. We then rolled these round and slightly flattened to decipher one recipe from the other. Both were delicious.
Here is something important to note, one, if you do not have caul fat make these anyway the flavours are so good, two, if you do not want to bbq then fry them in a frying pan with a bit of olive oil over a medium heat.
The proper Cyprian way of eating sheftalia is with warm Middle Eastern pita, gorgeous rich tahini, a salad of equal parts chopped raw onion, tomatoes and cucumber and pickled hot peppers.
Irene, being, Irene then made hot Turkish coffee and served the most sublime Baklava with walnuts and pistachios I have ever eaten. Check out her new website because I know the recipe will be posted there really soon or write her and I am sure she will respond.
Like all my Great Ethnic Home Cooks I feel incredibly blessed as they open their homes and hearts but trust in me to tell their stories.
Please let me know your thoughts and do give this recipe a try.
Eat well,
Joanna
First published: February 16, Inside Toronto.