Chef Joanna Sable learns about Iranian food for Great Ethnic Home Cook, Sorour
by Joanna Sable
I have a wonderful friend named Ema who is a chef-instructor. I am always on the hunt for my next Great Ethnic Home Cook and Ema mentioned she knew just the person, meet Sorour, a beautiful woman both inside and out from Persia. I am well aware that the country is now called Iran and many who were there before the disasters and wars fondly look back on Persia as a country of sophistication and beauty. Sorour is from the south end of Iran, which has through history been incredibly multicultural due to the fact that both the spice and silk routes ran through it. The south is oil rich. People from all over the world have come to work, and with that, they have brought culture and foods.
Sorour's family is highly educated and come from a strong science and math background. Sorour feel fell in love and married very quickly. This was the time of the war with Iraq and the entire family moved from the south to the centre, Tehran was considered safer. Sorour was in university studying hospitality when the war broke out and was unable to resume studies for 5 years. Sorour was introduced to her now husband solely by chance while running an errand with her brother. They were married quickly as war prevented single women from being out alone by fear of stiff punishment. Thus, dating was next to impossible. Thankfully, they now have two lovely boys and are still happily married, a happy ending for sure.
I asked Sorour what kept her in Iran when her one brother moved to the States and another to Sweden? Sorour and her husband stayed out of loyalty and obligation to his family and his brother who had been horribly wounded in the war. My next question was, "how did you decide on Canada?" Sorour's sister had a friend and co-worker who was working with an immigration lawyer to come to Canada and Sorour's husband said, "Perfect. Canada is the end of the world." This was not a negative in his mind, but the acknowledgement it was very far away with opportunities a country closer to Iran could not offer them. They enlisted the lawyer and found the only point of entry was Montreal so away they went with tiny boys in tow. Once in Montreal, not speaking any French, they contacted the one friend from school who was studying in Calgary. He suggested they hop on a plane to him and he could help them to manage a bit. Sorour did not like Calgary. Back then it was so very small and there were not a lot of people.
Coming from a bustling city this made her feel incredibly lonely as she was left for months at a time with the boys while her husband still actively worked in Iran and had to be there much of the year. The catalyst that moved them to Toronto was her eldest son who came here to study and basically said he was never moving back, so happily for me, Sorour lives here and very close to me.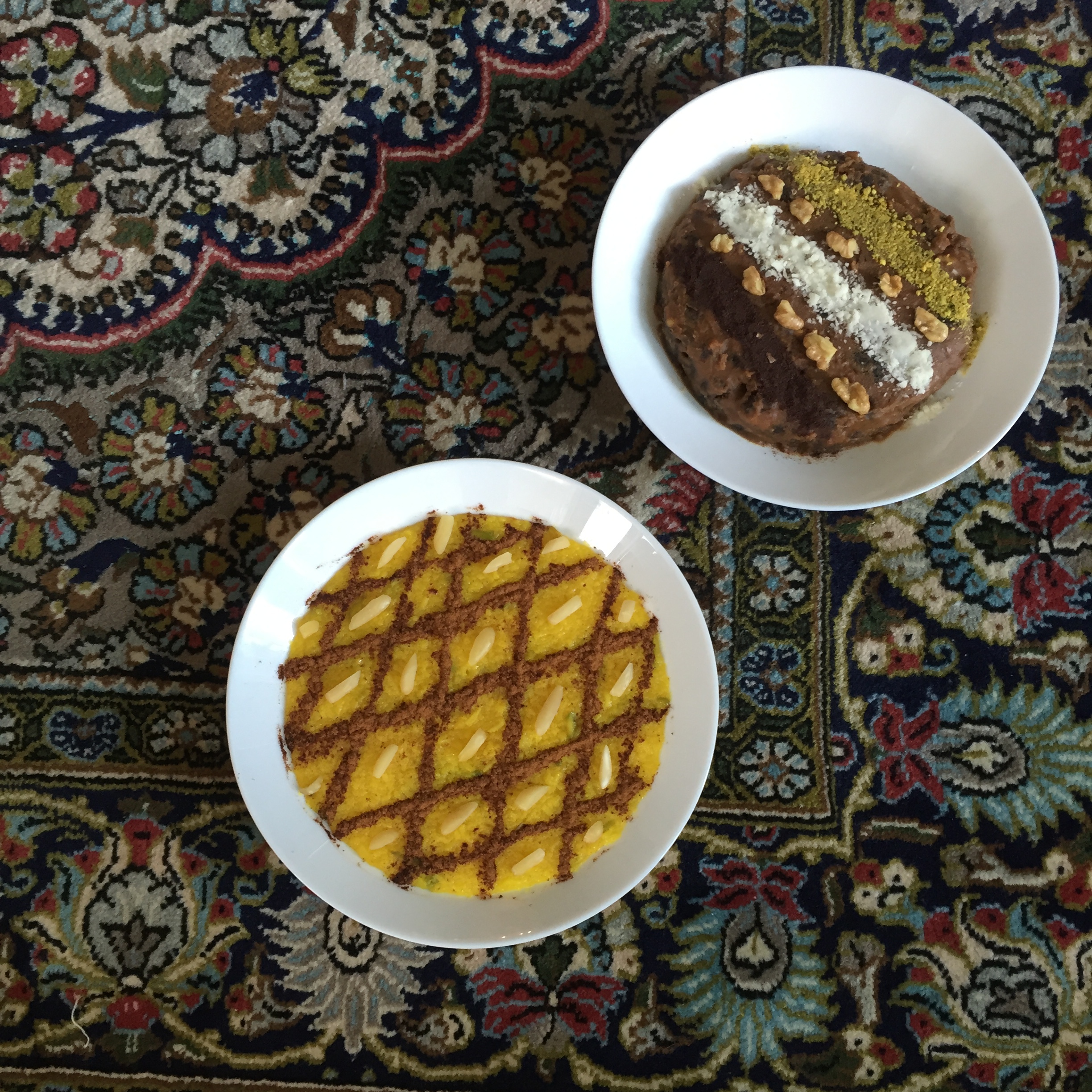 I asked Sorour about food memories and I loved her story. One day she and her cousin went to the movies, they were in their teens and she remembers her cousin went to the specialty shop to buy a sandwich. It turned out to be Serrano ham on the most perfect bun, Sorour fell in love and this was her first taste of a food outside of Persian food. To this day Sorour not only cooks a massive variety of cuisines but also has studied many and is very well versed. Sorour's mother was a very good cook but Sorour said the key to her being such a great ethnic home cook was plenty of practice, and clearly it paid off.
After knocking on the door and being greeted with warm smiles and big hugs I wandered into the tiny kitchen where there was a feast in the making. The scents of onions, saffron, basmati rice and cinnamon abounded and I was in heaven. I asked Sorour what we were making and she ran down a list of happiness which included; Zeresk Polow (chicken with Barberries and rice), Halim Bademjam (eggplant spread with kashk), Kebab Tabei (meat kebabs) and her own invention called Eggplant Cut.
Let's get started with some incredible recipes. I personally cannot wait to remake the Chicken with Barberries and Eggplant Cut.
Chicken with Barberries and Saffron and Polow
Serves 4 to 6
Ingredients
1 large chicken cut into 8's or any pieces you like best
120 grams washed, drained barberries. Let them dry on a bit of paper towel
100 grams slivered pistachios, or shelled and cracked
2 tsp of saffron threads in 4 tablespoons of boiling water
1 small onion, peeled and quartered
1/3-cup canola oil
1 cup boiling water
sea salt and cracked black pepper, Sorour loves a lot of pepper, me too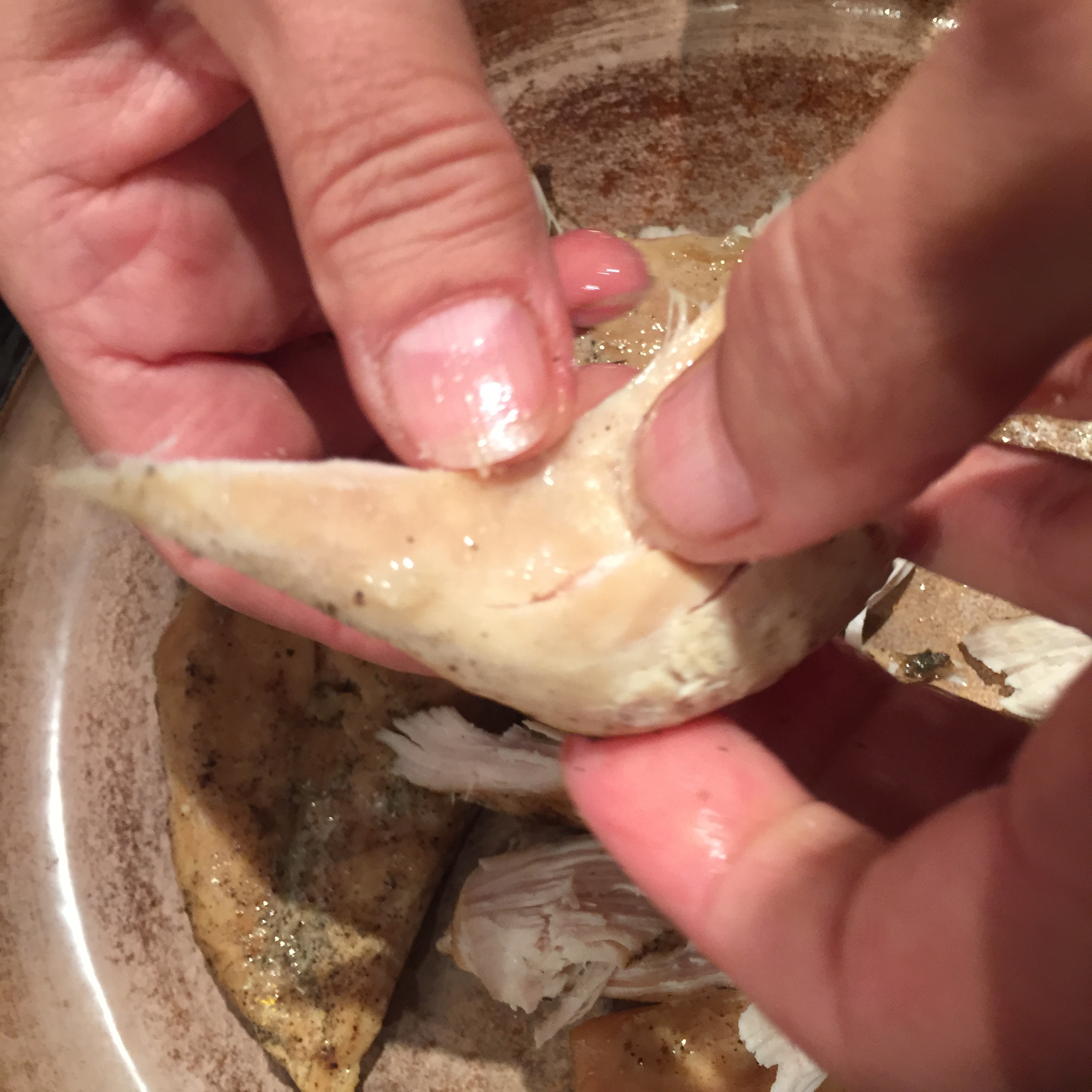 Polow Ingredients
4 cups of basmati rice, well rinsed
6 cups of water
1 small potato, peeled and thinly sliced
sea salt
3 tablespoons canola oil
Method
Season the chicken with salt and pepper, in shallow pot heat oil and brown the chicken on all sides, add the onion and then the water and simmer for 20 to 30 minutes until chicken is cooked through.
Remove chicken from the pan. If you are using boneless and skinless chicken you can shred it as Sorour does or my method will certainly be bone in and skin on.
Now we break in the chicken preparation to make the Polow.
In a pot boil rice with water until cooked but still crunchy, drain
Now add the oil and the potato over medium high heat, add the rice, sea salt and 2 tablespoons of water.
Let steam over a simmer until cooked through, 20 minutes.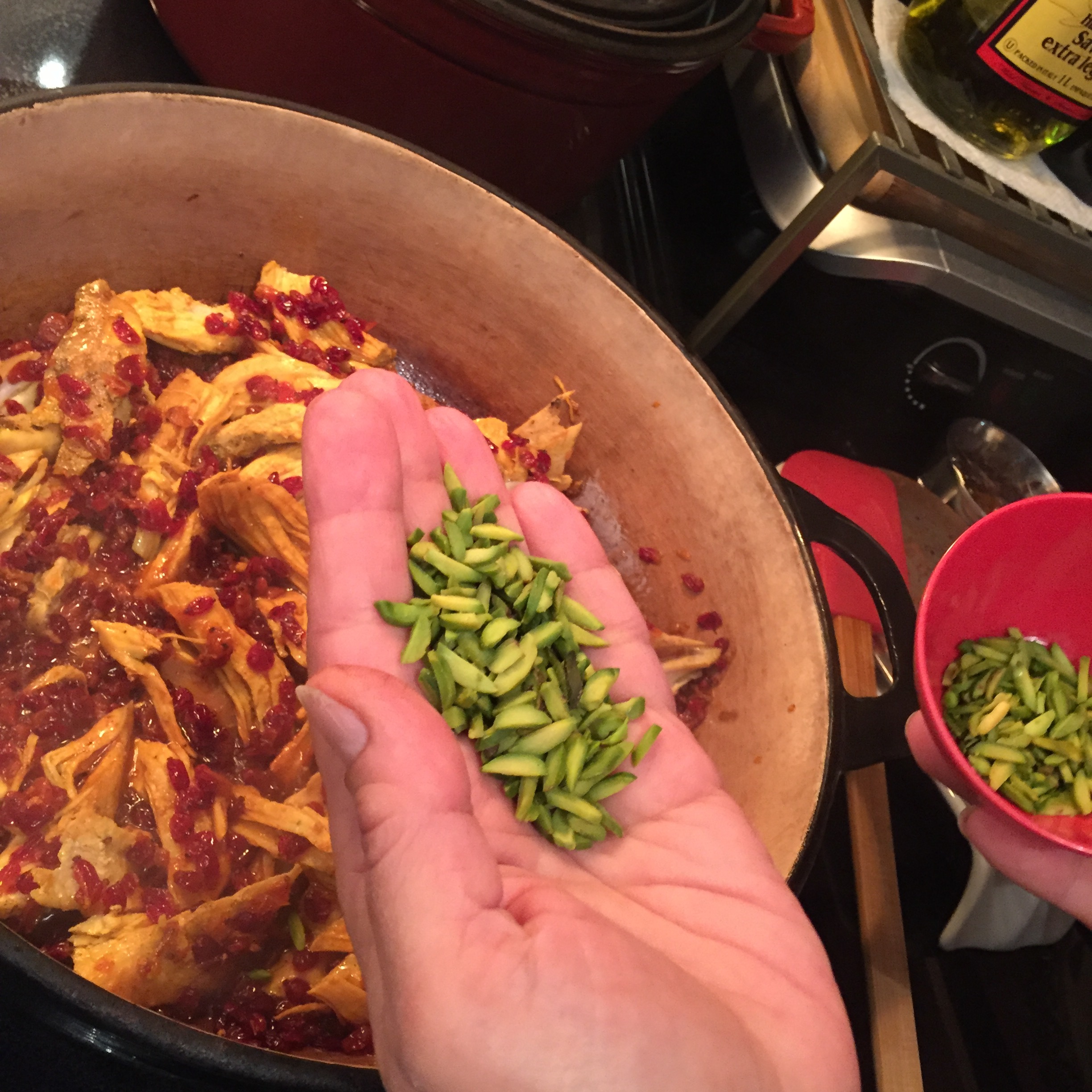 The rice should be perfectly cooked and the bottom will be like a crispy rice cake with potatoes, this is insanely good.
10 minutes before the rice is done go back to the chicken. In the pot that has all the lovely chicken cooking juices add the barberries and bubble up, add the saffron and simmer for 5 minutes. Place the chicken in and cook for 5 to 10 minutes turning to coat in the delicious sauce.
If you have trouble finding barberries try either cranberries, gogi berries or sour dried cherries
Plate the rice on a large platter and place chicken on top and garnish with this stunning jewel like sauce.
Kebab Tabbei
Sorour's father affectionately knows these kebabs as lazy kebabs as they are so simple and quick to make.
Ingredients
1 pound lean ground beef
Freshly chopped flat leaf parsley
3 plum tomatoes, washed, halved and seeded
Sea salt and cracked black pepper to taste
2 tablespoons canola oil
Method
Mix together meat, parsley and seasonings. Form into flattened logs. Add oil to a frying pan and get quite hot so the kebabs sear and do not steam. Brown on all sides, 5 minutes before serving top with tomatoes and cook until softened
Eggplant Cut
This is called this funny name as everything in it is cut!
Ingredients
6 small Italian eggplant, washed and cut into ½ inch pieces
2 medium onions, peeled and chopped
3 tablespoons canola oil
1-tablespoon tomato paste
1-teaspoon turmeric
3 tablespoons pomegranate syrup thinned with 1-tablespoon water
Fresh walnut halves
Sea salt and cracked black pepper
Method
Heat oil until very hot, add eggplant and mix well, add onions and cook until everything is softened. Now add tomato paste, turmeric and if needed a spoonful of water. Season and simmer covered until the dish is mushy.
Place in a pretty bowl, drizzle with syrup and top with walnuts.
This is a delicious appetizer with warm pita.
Halim Bademjam
Ingredients
6 small Italian eggplant, washed and cut into ½ inch cubes
500 grams lamb shoulder, left whole or cut into large pieces for faster cooking
1 medium onion, peeled and quartered
3 cups dried green lentils, washed and drained
400 ml Kashk, this is a salty sheep's milk yogurt, substitute kefir or plain yogurt
1-teaspoon tumeric
Sea salt and cracked black pepper
2 cups of water for lamb
2 cups of water for lentils
Method
In a medium pot add water, lamb, onion, turmeric, salt and pepper. Bring to a boil and then simmer until fork tender.
In a separate pot add eggplant and lentils and season well.
Cook this mixture until very soft, mash well.
Combine the 2 mixtures and simmer together until it is the consistency of wallpaper paste, add yogurt and continue to simmer for 20 minutes or a lovely creamy consistency. Place in a bowl and top it with caramelized onions and garlic and a drizzle of mint oil, which is made by heating 1 tablespoon of dried mint in 3 tablespoons of olive oil.