Joanna Sable learns how to make Hamantaschen with Sara Verk
by Joanna Sable
Meet Sara.
Sara is a South African Jew and I can tell you from experience, they have to be the warmest and most fun group of people on the planet. When I was at Cordon Bleu in London, England, my Step-Zaidy introduced me to some of my Step-cousins who were my age and living in London. They were so crazy and such fun that I instantly fell in love with their exuberant spirit. When I met Sara we had an instant connection and I just knew this was going to be one of those days when we would chatter our heads off, and in fact, we did just that.
Sara grew up in Johannesburg and migrated to Canada with her babies in tow. She and her husband had great friends who had already come here to escape the political issues in S.A. They were planning on opening a business in Canada, so they came. However, the process wasn't that easy. The S.A. government limited the money one could leave with and the Canadian government demanded a certain amount be brought in. Thank goodness for Sara and her family, the monies they had were able to satisfy both countries. To this day Sara still shakes her head about the money they had to leave behind, saying it was their hard earned dollars that they were denied to remove.
Sara's heritage on her Mom's side is Lithuanian. Her father's goes back many generations in S.A., which is quite interesting. The food memory maker and the woman who instilled in Sara a passion for cooking and food itself came from Mom's Mom. Bubby was fabulous; Sara's fondest memory is very funny. It is not so much of Bubby's kitchen but Bubby's car! Bubby never stopped cooking so the car was often packed up with tasty treats and away it went to Sara's mother. Sara said " Bubby's car smelled of food, she was always bringing things over". This lady drove my kind of vehicle.
Like many in S.A. Sara's family had help. This was the norm, but unlike many, Sara was always found in the kitchen, helping with the dishes, stirring pots. Thursday was the day off of the help and Sara remembers that the cook always made fish on this day left for her Mom to re heat for dinner that night. Perfectly cook, never greasy fried fish that when Sara talked to me about it brought a lingering smile to her face.
As Sara got a bit older she would hang around and write out recipes, a gatherer of history and food. Sara begged her Bubby for her Teiglach recipe. This is truly a South African treat which is like a cakey biscuit dough dipped in a favourite; Lyle's Golden Syrup. I think I may need this in my life. Go onto Sara's blog for this and a ton more recipes.
Sara has two daughters. I asked Sara if she taught them from a young age how to cook, and surprisingly, she said not. Now, it really shouldn't surprise me as many a Great Ethnic Home Cook has control issues, me included, and doesn't like anyone else to mess up their kitchen. Both girls now love to cook. One daughter is a personal trainer, mom and baby coach and a true healthy eater. She is often the one asking for true healthy food recipes. The other daughter, an urban planner and architect, is also the mom of Sara's two favourite people, her granddaughters. They also, are good, clean cooks. Sara's has always been the home where everyone hangs out in the kitchen. She also has made the most incredible cookbooks with stunning photographs to give as wedding presents. Sara is a food blogger and a self-trained recipe creator. There is a true lack of cool, interesting children's cookbooks out in the universe and I am encouraging Sara to write one. Please email her (Thekitchensink57@gmail.com) and tell her the same thing and she might get the hint.
I drove to Ancaster to meet with Sara. She has a really lovely home and an incredible garden I cannot wait to see in the summer. She and husband Gord are putting in an heirloom garden. I love Gord, he is my kind of guy. When I arrived, there was the most stunning spread of beautiful cheeses, fruits and homemade sour dough artfully arranged but it is what Gord does that floats my boat. He goes into the fridge and pulls out 2 N.Y. striploins. Gord's family was in the meat biz and Sara is vegetarian so any time a carnivore arrives it is party time. Gord gets a N.Y. slab and wet ages 45 days before cutting it into ¾' steaks. The man has 3 BBQs and a smoker.
Back to Sara, Oh Gord those steaks were incredible and perfectly cooked. Okay, I know, hello, shiny things. Sara had decided when I first asked her if I could write a story about her that we wait until the lead up to Purim as this is Hamantaschen time. The quick story goes like this. Hamantaschen are a triangular cookie and Haman the bad guy wore a pointy hat shaped much like this, or he also had pointy ears. You chose.
As we always say one needs a strong base in the classics in order to change up a recipe. Sara's classic dough is so good Pate a Sucre like dough that is a lovely sweet buttery pastry with the addition of eggs. It is nice dough to work with as it is forgiving and also can be re rolled. Sara adds orange zest to hers and I think this may be one of the best ideas ever. It adds a note of freshness that I just loved. On the day I came over Sara had enough dough to feed all of Israel one Hamantaschen each. Gotta love an ethnic cook. We made a classic one with an apple filling of 2 washed and cored apples diced sautéed with 1 teaspoon of cinnamon, 1 tablespoon of brown sugar and 1 tablespoon butter. Do not let the filling get mushy, cook for approximately 5 minutes or until the apple is tender, let cool.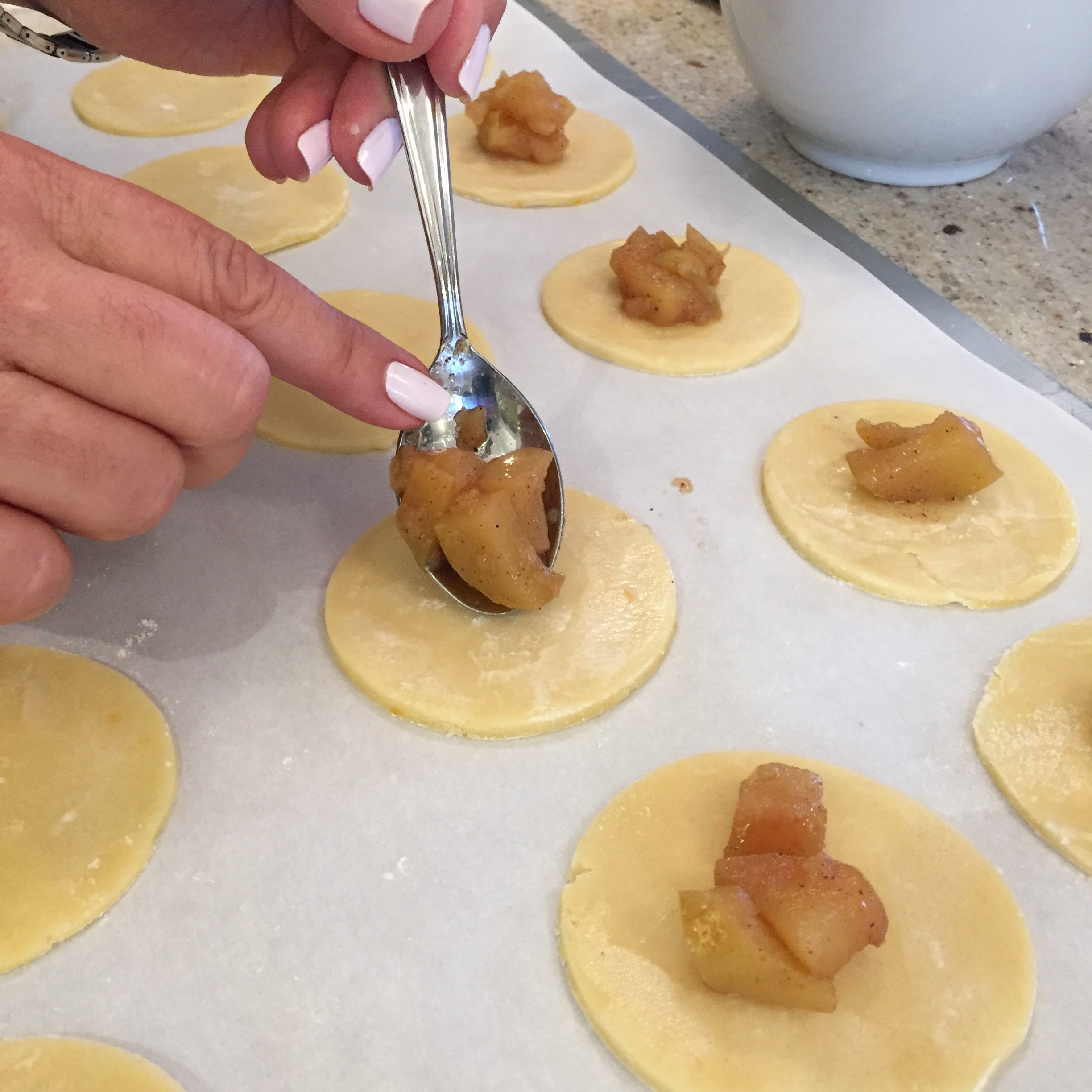 Sara also used lovely strawberry and fig jam for the classics. I am a huge fan of apricot jam as well. Then came funky time with Skorbar bites mixed with Nutella and S'mores made with crumbled graham crackers and chocolate disks caked inside and, then once cooled, topped with marshmallows and torched. Holy moly.
But the really, really cool one was the Cannoli Hamantaschen made with a cream cheese dough that can also be used for Rugalech, one of my favourite Jewish Cookies ever invented. Truthfully I think other than the shape these 2 cookies are filled with the same stuff and taste pretty much the same.
While I was at Sara and Gord's I was lucky enough to see Gord's incredible collection of antique teapots; he also collects ancient teas. I only began to learn about some of what his breadth of knowledge is in this area but rest assured I shall find out more. As I was down stairs I spotted the most gorgeous copper pot. I asked Sara about this and she said it was her Bubby's.
What a precious memories this pot contains and it now graces her newly renovated kitchen and range. I left Sara's home that day with an armload of Hamantaschen, an incredible freshly baked loaf of bread and her own homemade Peach, Mango, Tarragon Jam.
I am a very lucky lady indeed not only for the material gifts but the gift of time, memories, smiles and laughter we shared together. Do check out her blog and hopefully one day we will be able to give our children and grandchildren Sara's book. As with all my stories, it is a joy to share with you and please send me back any insight you would like to share.
Eat well,
Joanna
RECIPES
Hamantaschen dough
Makes 24 cookies
Ingredients
2 cups all-purpose flour

2 tsp baking powder

1/8 tsp salt

1/2 cup butter plus 2 tbsp

1 cup sugar

1 large egg plus 1 yolk

2 tsp packed finely grated fresh orange zest

1 tbsp water
Preparation
Into a bowl sift together flour, baking powder, and salt. In another bowl with an electric mixer beat butter, sugar and egg at medium speed until light and fluffy.
Add zest and water and beat until incorporated.
Add flour mixture, stirring, until a smooth dough is formed.
Gather dough into a ball and flatten into a disk.
Chill dough, wrapped in plastic wrap, at least 3 hours and up to 2 days.
Preheat oven to 350° F.
On a lightly floured surface roll out half of dough to 1/4 inch thick.
With a 3-inch cutter cut out as many rounds as possible.
Transfer rounds with a metal spatula to a large parchment lined baking sheet, arranging about 1/2 inch apart.
Reroll scraps and cut out more rounds.
Put 1 teaspoon filling in center of each round and fold up edges to form triangular cookies resembling a tricornered hat, pinching corners together and leaving filling exposed. (Pinch dough tightly enough so seams are no longer visible and sides are taut enough to prevent cookies from leaking filling as they bake.)
Bake hamantaschen in middle of oven 15 minutes, or until pale golden.
Cool hamantaschen on baking sheet 5 minutes and transfer to racks to cool completely.
Cannoli Hamantaschen
Makes 3-4 Dozen
Ingredients
Cannoli Filling:
¼ cup ricotta cheese

4 oz cream cheese, softened

¼ cup confectioners' sugar

½ tsp cinnamon

½ cup mini chocolate chips
Hamantaschen Dough:
½ cup unsalted butter or margarine, room temperature

3 oz cream cheese, softened

½ cup sugar

½ cup milk

1 tsp vanilla

3 cups flour

½ tsp salt

1 egg beaten with 1 tbsp milk, for glazing the hamantaschen

½ cup chocolate chips, for drizzling

confectioners' sugar, for dusting
Make the cannoli filling: In the bowl of a mixer, beat all ingredients except the chocolate chips till light and fluffy. Fold in the chocolate chips and refrigerate, covered, till needed.
The dough: Beat the butter, cream cheese and sugar till light and fluffy; scrape down the sides.
Add the milk and vanilla and beat till incorporated.
Scrape down the sides.
Add the flour and salt and beat again.
Divide the dough into two pieces, wrap with plastic wrap and refrigerate for at least two hours.
Remove from the fridge at least 1/2 hour before use.
Pre-heat oven to 350.
Line 2 baking sheets with parchment paper.
Working with one dough at a time, roll each to a ¼" thickness and place on prepared baking sheet and cut out circles using a 3" cutter.
Gather trimmings, re-roll and cut.
Brush the edges of the circles with water and place ½ teaspoon of cannoli filling in the centre.
Fold the dough into a triangle shape and pinch the corners and edges firmly together. Brush the dough with some more of the egg wash.
Bake hamantaschen till golden brown, about 15 minutes.
Transfer to a wire rack to cool completely. When cooled, place on two baking sheets lined with parchment paper.
Last, melt the ½ cup of chocolate chips in the top half of a double boiler set over barely simmering water.
Cool slightly and transfer to a disposable pastry or ziploc bag.
Snip a small opening in the corner and drizzle the chocolate over the hamantaschen. Refrigerate till set.
Dust with confectioners' sugar just before serving.
First Published: Inside Toronto - April 6, 2016