At home with Nancy Lowe
by Joanna Sable
"Wait until you taste this No Bake Ice Cream". No bake? Ok so Nancy Lowe meant to say no churn but seriously, this is how we talk. Food gets people excited, the sharing of recipes, ideas and tastes just makes us all so happy, we chat a mile a minute.
Now let's back up and bit and start from the beginning, or at least try to.
Meet Nancy Lowe, she is a beautiful blond who bubbles with exuberance. Nancy is a "Jill" of many trades and has found a home in the food industry catering, blogging, recipe development and taking care of a full household. You may say, wait, Nancy is supposed to be a Great Ethnic Home Cook? She is, Nancy had a bit of formal training but Nancy's passions and love of food, and table settings, décor and more come from her very energetic mother who, from Nancy's description, is still a going concern. Must be in the blood, or wine, or water.
Nancy's parents loved to entertain and eat out and they took the family to both fine dining and casual restaurants, but, always in search of great flavours. Nancy's mother had fine taste, which ran to beautiful items by Lalique and such, however, like Nancy, her mother was comfortable with a houseful of mismatched china as well.
At 21 Nancy's mother came over from London, England, Nancy's Dad, well he is another story. He grew up not at all well off in Alliston, Ontario and with a lot of hard work he provided beautifully for his family. Nancy has funny food memories of her Dad. He would never ever eat lamb because growing up all he had was mutton style lamb and he just could never get over that. Nancy's Mothers parents, on the other hand, fed her the most divine lamb and roasted the potatoes in duck fat. Something Nancy is still never without.
People often say British food is quite horrible, and, yes, in comparison to other ethnicities there is quite a bit of poorly made food, yet there is some really incredible cooking that has always come out of the British Isles and I was very fortunate to experience some of the most delicious of that food.
I entered Nancy's lovely house, sat on a stool in a sunny kitchen, opened my notebook to get ready and the questions began. Not mine, Nancy's; would I like a drink, is it too early for a treat? Tea and the best Skor Bar Oatmeal Cookie was indeed a breakfast beyond belief. Forget eggs, thing of the past.
Because Nancy is a caterer and incredibly well organized, the table was perfectly set. Bowls and plates with measured foods came out of the fridge and pots and pans were at the ready. I am used to grabbing hands before they dump ingredients so I can measure and make recipes for you. Not this time, Nancy said, "no worries, I will send you exact recipes". I went into shock, shook my head and enjoyed the ride.
Today we were making Toad in the Hole and the most incredible dessert using a Yorkshire Pudding batter. Today was Yorkshire Pudding Day and was this ever cool. I have so very often heard about how fussy the puddings can be, how they need to be placed in smoking hot containers, never open the oven and I believe singing to them may have been a part of the discussion. Now, throw all this nonsense out of your head, they are dead easy, really creative and pretty mush like pancakes except super puffy and very cool.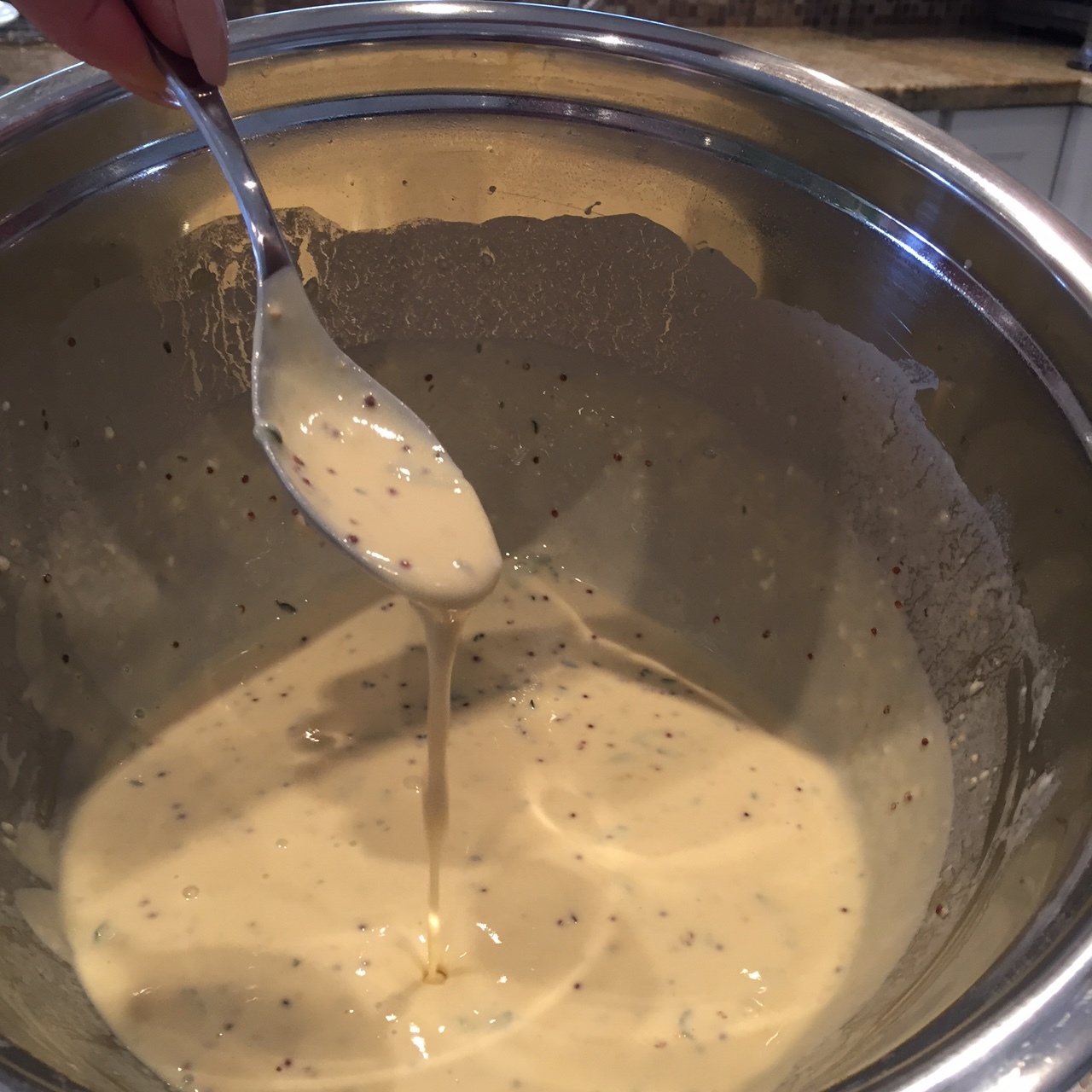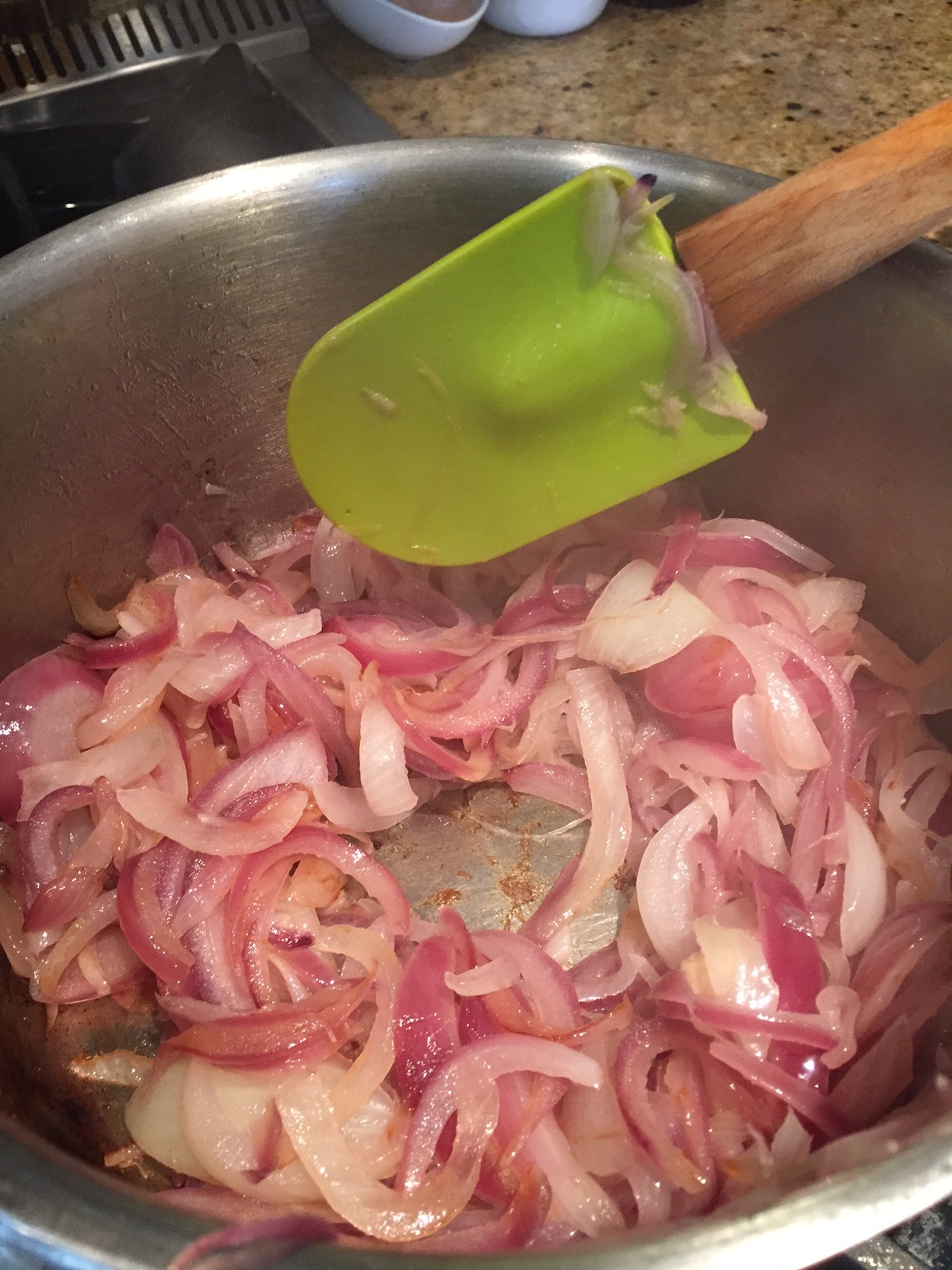 Because the batter is flavourless it happily takes on any flavour you like. Nancy on this day made a savoury batter adding gorgeous fresh herbs like rosemary, thyme and sage and a whopping spoonful of Pommery, grainy mustard. It tasted like Thanksgiving and Christmas rolled into one. The most important thing is to try to know in advance you are going to make some puddings, as Nancy likes it to rest in the fridge overnight. Again, Nancy made it easy. Toad in a Hole is Yorkshire pudding with loads of onions and sausage sticking out, hence the Toad part. I always thought to make Yorkshire pudding you needed those fancy, very heavy Yorkshire pudding molds. Well again this myth was dispelled. Nancy dumped a mess of onion wedges and beautiful fresh turkey and herb sausage into a duck fat lined baking dish and wacked it in the oven. When the sausage were partially cooked and starting to brown she added the batter over top and returned it to the oven and now and again she forgot she wasn't supposed to open the oven to peek and it still came out bubbling and perfect.
Next was the Chocolate Popovers, same basic batter but with the addition of cocoa. Instead of duck fat we now used organic coconut oil and the real pudding containers to create these insane popovers. Nancy had a plan, let's sit down and enjoy our lunch while dessert bakes and that is exactly what we did. Lunch was a glorious affair with the Toad in a Hole, the most scrumptious oven baked beans and a fresh tangle of greens and cherry tomatoes on the vine.
I need to take a slight break and tell you about the world's quickest most perfect baked bean recipe. It is silly easy and wow, amazing. Nancy's Mom's best friend Barb created these and to this day they are called Barb's Baked Beans. You can find the recipe on Nancy's Blog; www.nancyscravings.com you can thank me later.
Dessert was a thing of beauty and I learned a great secret to both Yorkshire puddings and popovers. When they come out of the oven quickly prick the sides in order to let steam escape. If you prick the top, of do not do anything, they'll collapse. Nancy served these chocolate delights with the "no bake" Fig and Praline Ice Cream which is so bloody good you will be making it forever and a drizzle of sublime warm ganache and a hit of raspberries for both a fresh note and gorgeous colour. If all the parts are ready, I must tell you this is an easy dessert and you will look like a professional.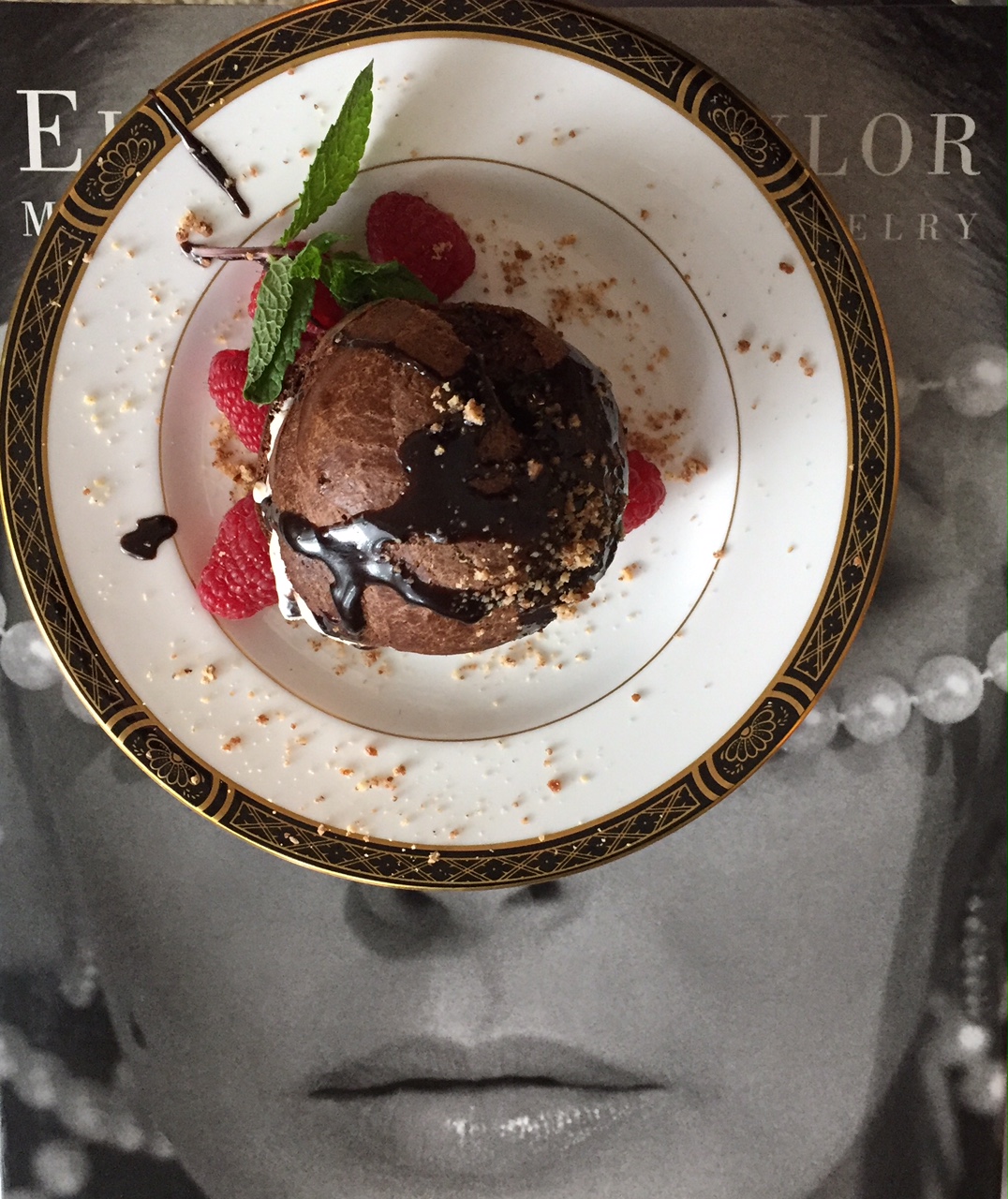 Enjoy the recipes below and as always let me know if you have any questions or comments.
Eat well,
Joanna
For more info on Lemon Drop Catering visit: http://lemondropcatering.com/
Recipes
Herb Infused Toad in a Hole with Red Onion Gravy:
1 cup flour
1 cup skim milk
4 eggs
1 tsp salt
1 tablespoons grainy mustard
2-3 tablespoons chopped herbs (rosemary, sage, thyme)
8 sausages, pork or turkey
2 large onions, cut into wedges
2 tablespoons duck fat or sunflower oil
Onion Gravy:
1 tablespoon duck fat or sunflower oil
2 red onions
1 tsp sugar
2 tablespoons balsamic vinegar
2 tablespoons flour
1 cup red wine, optional
2 cups stock, beef or chicken
1 teaspoon fresh thyme
Place flour, milk, eggs, salt, mustard and herbs in a mixing bowl. Blend until smooth.
Cover and place in the fridge to set for 2 hours or overnight. Batter should be the consistency of heavy cream. Mix all ingredients together and refrigerate for a minimum of 2 hours or over night.
If batter looks too thick after resting, add a small amount of milk.
Heat oven to 425 degrees. Place duck fat in a large baking dish, approx. 9 x 12in and heat in oven for 5 min. Add sausages and onion wedges; cook for 15 minutes or until sausages are browned and blistering.
While sausages are cooking start the onion gravy by adding the duck fat and onions to a 3 quart pot on medium. Cook onions for 15 minutes until caramelized but not burnt.
Add balsamic sugar and vinegar; cook until absorbed. Add flour to the onions and cook for 1-2 minutes. Slowly add stock and wine while stirring the onions as it thickens. Add thyme and keep warm.
Open oven and pour batter evenly over sausages quickly, so not to lower oven temperature. Cook for 30 minutes without opening the oven. Check to make sure the pastry is a deep golden brown without opening the oven. If it isn't, add 5 minutes at a time.
Serve immediately with onion gravy.
Chocolate Popovers with Fig Praline Ice Cream, Raspberries and Chocolate Ganache
Serves 6
Popovers:
1 cup flour
1 cup milk
4 eggs
¼ teaspoon salt
3 tablespoons unsweetened cocoa powder
4 tablespoons sugar
3 tablespoons coconut oil
Ice cream:
2 cups whipping cream
1 tablespoon chocolate liquor
1-14oz can sweetened condensed milk
2 tablespoons fig compote/jam
1 cup candied pecans
Garnish, fresh mint and raspberries
Chocolate Ganache:
1-1/2 cups semi-sweet chocolate
¼ cup whipping cream
Method
Coarsely chop ¾ cups pecans and finely crush the remaining nuts.
Let's start this recipe by placing the whipping cream and chocolate liquor in the bowl of a stand mixer with a whisk attachment.
Blend until stiff peaks form.
Slowly fold in condensed milk
Freeze for 2 hours, remove from freezer; fold in fig jam and chopped pecans.
Place back in the freezer for 4 hours or overnight.
Place flour, milk, eggs, salt, sugar and cocoa powder in a mixing bowl and blend until smooth.
Cover and place in fridge for 2 hours or overnight.
Set oven to 450 degrees.
Place ½ teaspoon coconut oil in muffin tins or popover tins. Fill each cup ¾ full. Place in oven for 15 minutes and then turn oven down to 350 degrees and continue to cook for another 15 minutes without opening oven door.
Once cooked, remove from oven and put a small slit in the side of each popover to allow steam to release without sinking the center.
Place chocolate and whipping cream in microwave safe dish. Microwave for 1-1/2 minutes. Stir until smooth.
To serve: cut each popover in half and top the bottom with a scoop of ice cream. Top with other half of popover. Drizzle with chocolate ganache, sprinkle with crushed pecans, raspberries and mint.
First published: Inside Toronto - Tuesday, March 15