GEHC - Fatma's Turkish Kitchen
Fatma's Turkish Kitchen
by Joanna Sable
Meet Fatma, she is Turkish and has been living in Toronto for just over 4 years. Fatma has a wonderful love story. Fatma's husband was born in Turkey and he came here when he was virtually a baby. Fatma likes to say she speaks English with a Turkish accent and her husband speaks Turkish with a Canadian one.
Fatma has known her husband all her life because their Grandmothers are good friends and neighbours. When Fatma's husband was ready to settle down he went to visit his Grandmother and to visit Fatma. Fatma's Aunt suggested they have a real date, however, Fatma, who secretly knew he was the one for her, hesitated. You see Fatma knew that falling in love meant moving to a new country with a new language and way of life. It also, and more importantly meant leaving her parents forever. Never an easy thing especially when you are very close. As in a storybook, love won, Fatma moved, she went to a government sponsored language programme got a job, and, the rest is, how they say, history.
I met Fatma a few times at one of the best Turkish restaurants in Toronto, Pasha Turkish Restaurant www.pashaturkishrestaurant.com. She is a server here and very good at it. We started to chat and I told her of my love of Turkey, the people and the cuisine and Fatma lit up and there in started a friendship. I asked her if she liked to cook and she promptly told me she loved to cook and that she was a good cook. I love her(e) bubbly personality and confidence. We continued to eat and chat, I was with Tracy, and my Great Ethnic Home Cook on Pirogues and it was her first time visiting here so we ordered all kinds of fun things. I gave Fatma my card and we chatted over Facebook Messenger and planned a date. I had no idea what I was in for but discovering new things and the unknown are like surprise presents for me.
With a jar of my Cumin Pickles and Roasted Peach Jam in hand I entered a really pretty condo filled with light and blue furniture.
Fatma's kitchen is not large but it has good counter space and she is an organized efficient cook.
In Turkey they stuff hollowed out dried baby eggplants and zucchini. These are super cool. They are hard as rock, paper thin and then rehydrated before stuffing. The vegetables can keep this way forever and the texture is really cool. We do not have these here so Fatma makes Zucchini Dolma with fresh zucchini. I have had both and I love them both equally.
For 12 pieces of Dolma you will need:
200g lean ground beef, feel free to substitute any ground meat, poultry or tofu
6 lg zucchini, washed and ends removed cut in half widthwise
1 c Jasmine rice, washed and drained
6 tbsp olive oil
2 med onions, finely diced
1 tbsp sweet red pepper paste
1 tbsp tomato paste
4 tbsp crushed canned tomatoes
2 tsp sea salt
2 tsp ground pepper
¼ tsp ground cumin
1 tbsp dried mint
3 thin slices of lemon
2 tsp dried red pepper; this is a Turkish spice blend of walnuts, sweet pepper, hot pepper and sundried tomatoes. I will give you a few stores to buy Turkish ingredients at the end
1 handful of fresh Italian parsley, washed, dried and finely chopped
1 cup plain yogurt
Take cut zucchini in your hand and with a really small spoon scoop out the halves slowly and carefully so they do not crack or break. Reserve the middle in a bowl. Set aside.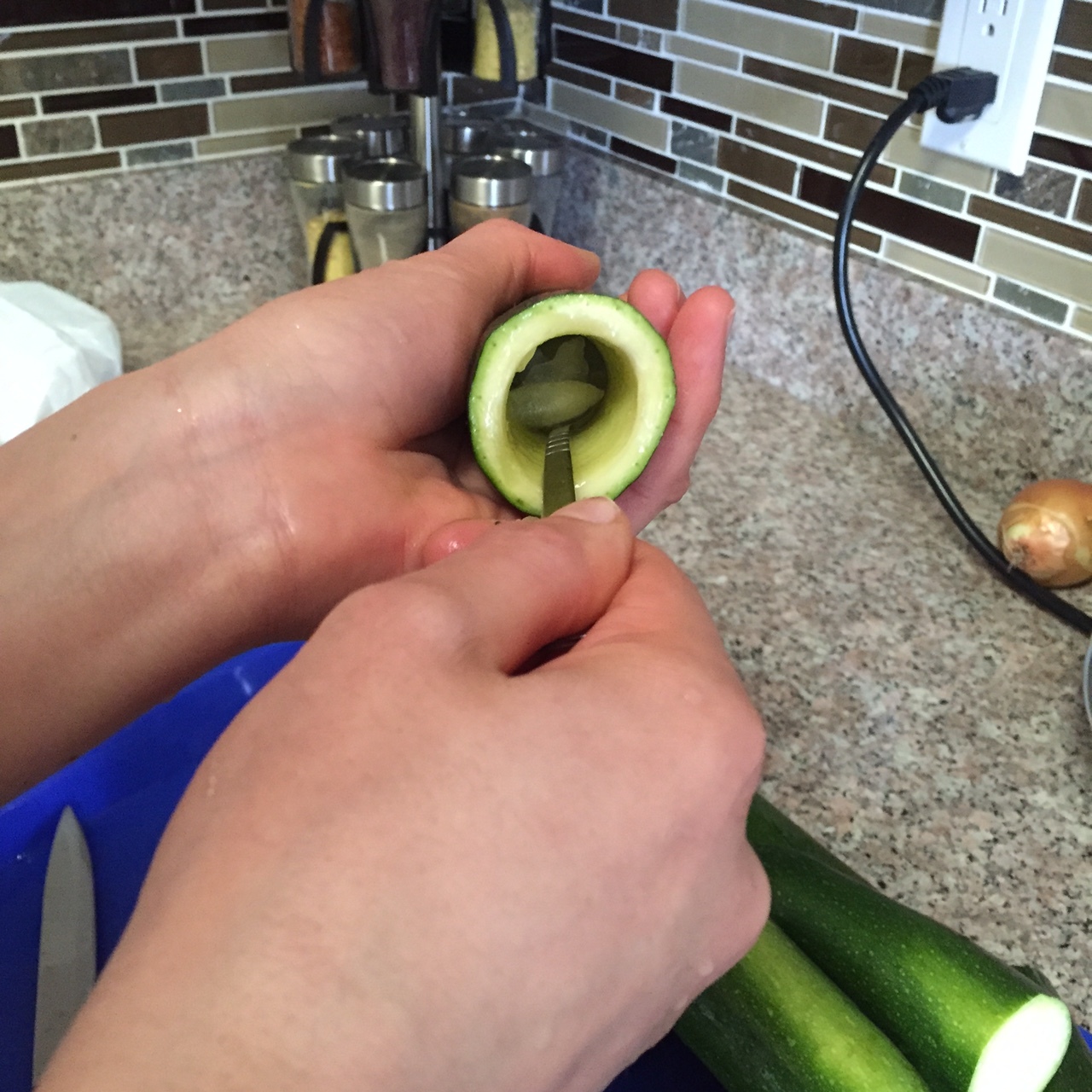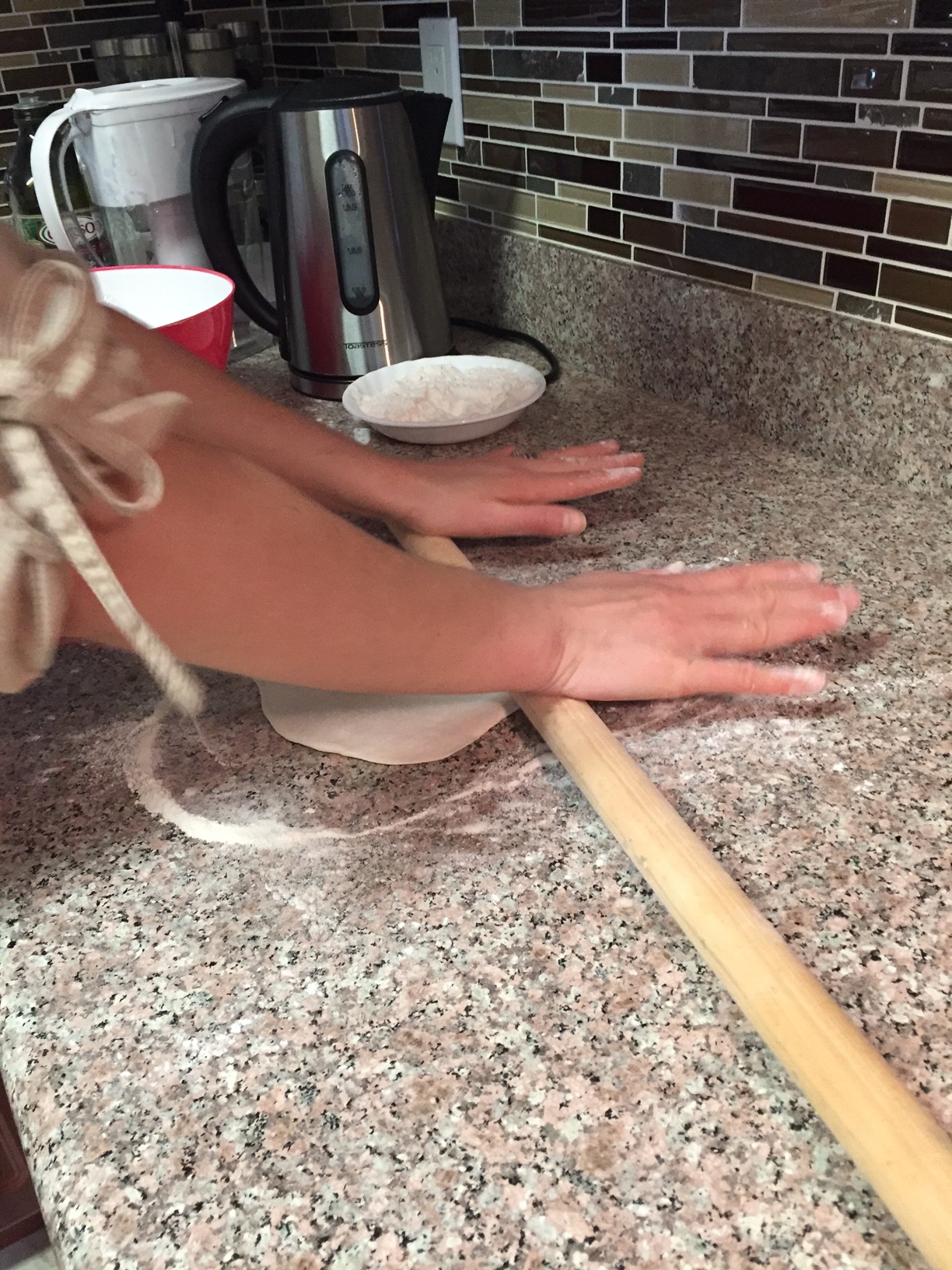 In a frying pan add olive oil and the ground beef, breaking it up with a wooden spoon, once partially cooked add the onion and cook until it is translucent, about 10 minutes over medium heat.
Add all other ingredients except the parsley and lemon and set aside to cool. Add parsley and once cool enough to touch take a zucchini half in your hand and fill to ¾ with the meat mixture. Stack the zucchini open face up in a small pot that can hold the 12 pieces snugly. Fill the pot with water ¾ of the way up the zucchini and top with the lemon slices.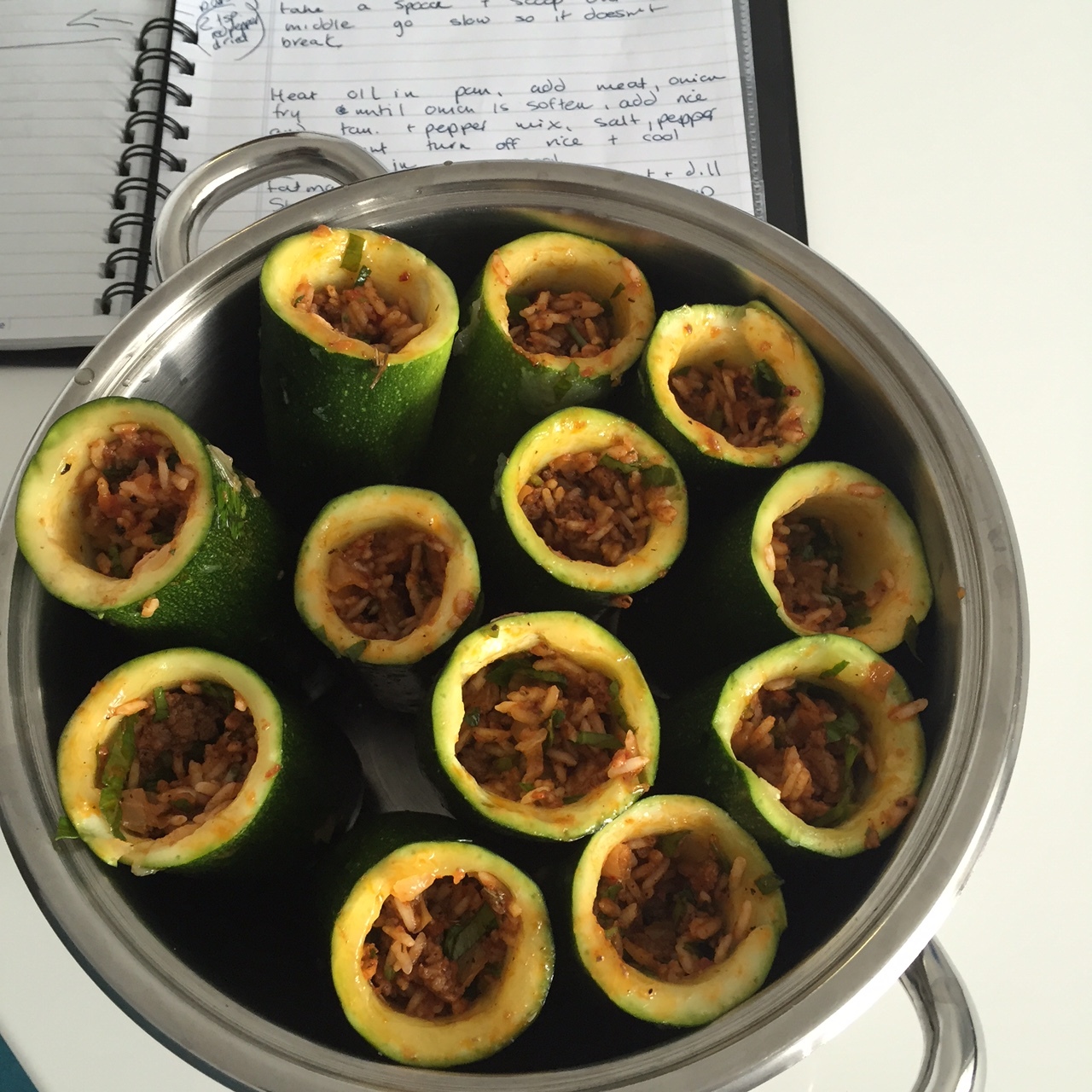 Bring to a boil and then simmer for approximately 1 hour. To test for doneness take a taste of the rice and see if it is cooked. Once they are done gently remove them from the water, set on a plate and drizzle with yogurt.
Now this is all from Fatma, she says that you can easily put this mixture into an onion, grape leaves, pepper or eggplant as well. Fatma also says to go ahead and add lots of fresh dill and mint if you like. She also makes her own yogurt, which is easy and delicious from boiled milk, a pinch of salt and sugar and a heaping spoonful of older yogurt. She then places it into a cold oven overnight and in the morning it is ready.
Remember the zucchini middles? Fatma sautés an onion and garlic in olive oil, adds sea salt, black pepper and homemade yogurt and turns it into a rich thick soup. Like many ethnic cooks she hates waste, I couldn't agree more.
At this point I thought we were done but little Miss Energizer Bunny had more tricks up her sleeve.
Gozleme or Borek
This is a snack similar but yet very different to Spanokopita.
1 large leek, washed well, sliced very finely and really dry
1 bunch of large leaf spinach, washed well, sliced very finely and really dry
1/2 cup olive oil
1/3 kg feta, crumbled
2 tsp ground black pepper
1 tsp salt
3 tbsp dried pepper mixture
1 tsp ground cumin
Mix everything together
Dough
2 cups of flour
And get ready for this, enough water to make the dough the texture of your earlob. I am guessing start with 3/4 of a cup.
1 tsp sea salt
Mix the dough and let it rest covered in the fridge for 2 to 3 hours. Then bring it to room temperature before handling.
Preheat the oven to 350f and place a baking sheet inside.
Place a large nonstick frying pan on the stovetop.
Dust the counter with flour to prevent sticking.
Now Fatma's rolling pin is a broom handle sawed off. It is thin and perfect for rolling these types of dough's. Many ethnic cooks have a similar one. Nonna has this for pasta.
Pull off a piece of dough the size of a small tennis ball, which means bigger than a golf ball. The end result looks like a large panzerotto.
Roll the dough as thinly as you can, we are talking really thin. Top half with the vegetable mixture spreading it out thinly and evenly.
Fold the other half over and press gently to close the seam.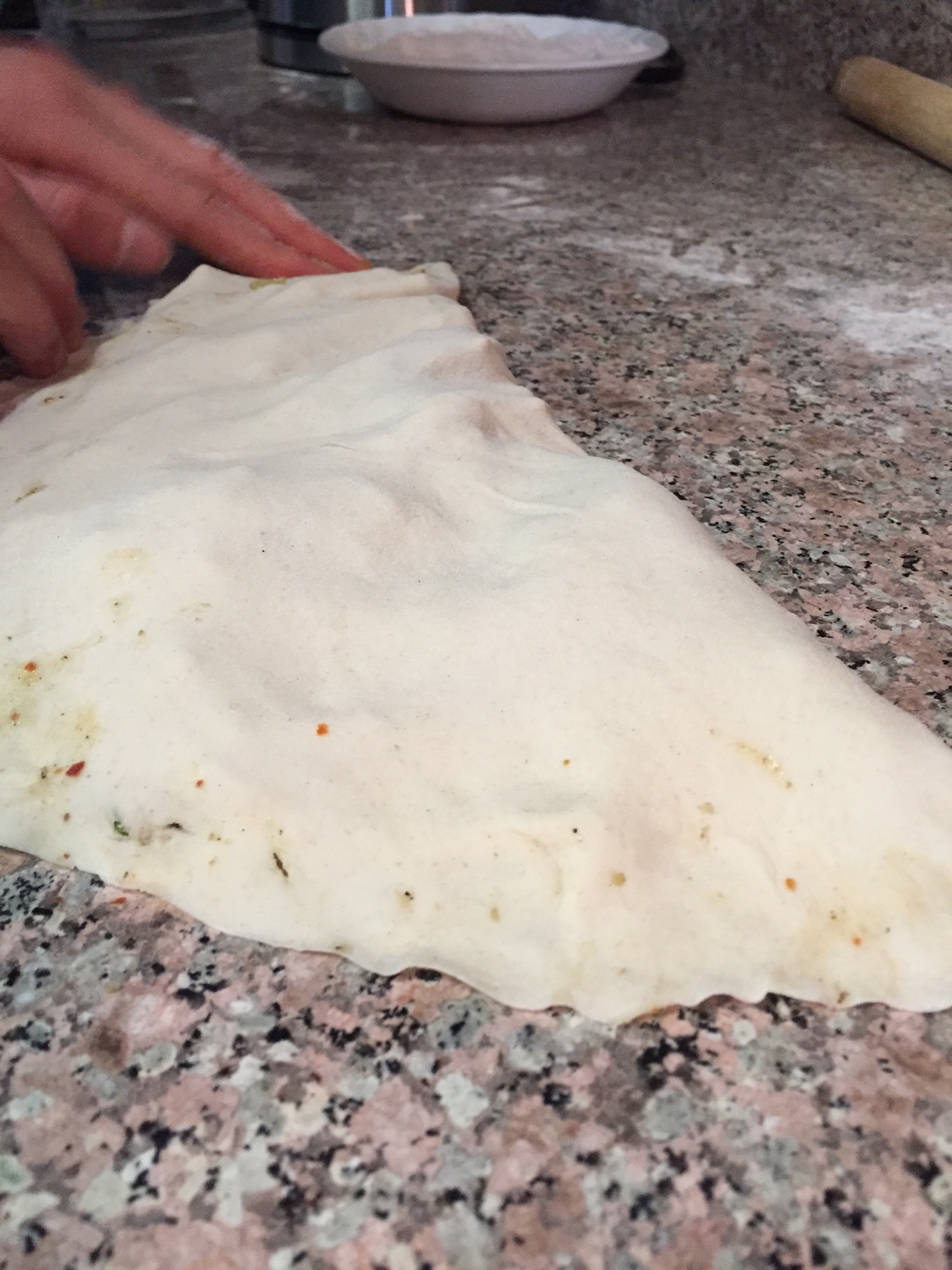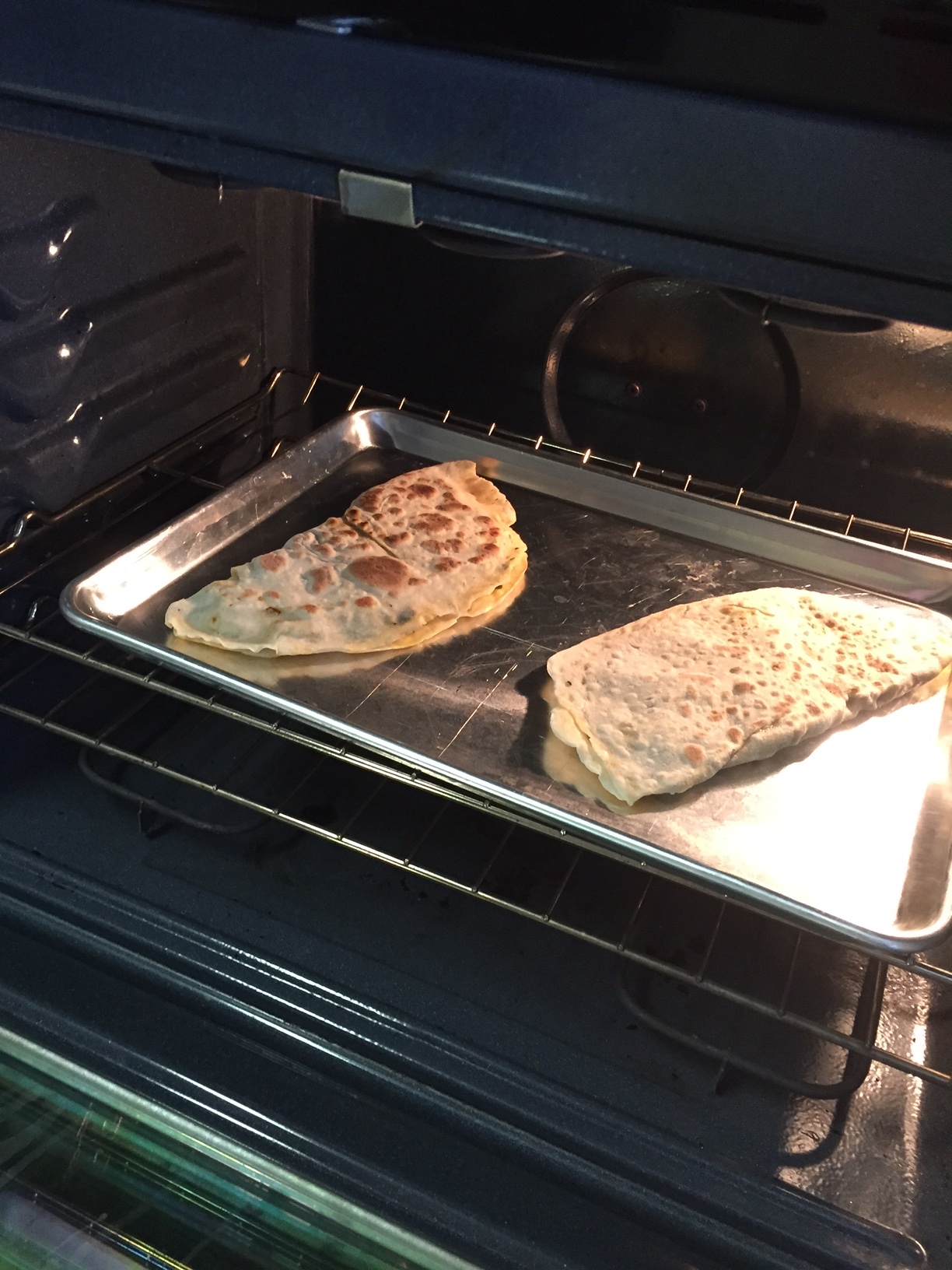 Heat the frying pan without any oil until very hot. Place 2 of the half moons in the pan let brown and then flip. Once both sides are done place them in the oven to bake for 10 minutes. Repeat until all of the dough and filling are done, cut into wedges and like almost everything in Turkey, eat with yogurt.
No wonder they are so healthy!
Now it was time for tea and to sit down and enjoy this wonderful feast.
Fatma gets her ingredients from;
Pristine Fine Foods www.pristinefinefoods.com
Marche Istanbul www.marcheistanbul.com
I recognize this dough recipe is a little out of the ordinary and very very Great Ethnic Home Cook Style but Google Gozleme Recipe and loads come up. I think it is sort of fun to feel your ear and make dough just like it.
As with all my writings, please let me know your thoughts and questions.
Eat well,
Joanna
First published: Inside Toronto - May 3, 2016