The fine art of eating - Zimbabwean style
The fine art of eating - Zimbabwean style
by Joanna Sable | October 26, 2016
Meet Evis Chirowamhangu: former citizen of Zimbabwe and now a proud Canadian. Evis, like many who come from elsewhere, come out of duress, but choose to stay because of the opportunities available and the warm Canadian welcome.
Evis came to Canada alone at the very young age of 21; Zimbabwe was in turmoil and if you were against the existing regime you were targeted. Thugs blocked your entry into your home, and you were continually threatened and almost always living in fear. Why did tiny, lovely Evis pick the political route and not just stand by meek and mild? Simply put: she wasn't raised that way. As one of the 9 siblings, she watched her parents work incredibly hard to give all their children the ability to go to boarding school, which was the norm in regards to schooling. Evis' father was a political activist and with this came a target on both him and his family. Boarding school provided a safe sanctuary for their children. Evis's older sister taught at this school and her younger brother was brought here so he too could be safe. Evis began university in Zimbabwe. While there, she joined a group of women named the Young Women Leadership Development, following a political stance to support, and actively campaign, the first ever Female Secretary General of the Students Union at the University of Zimbabwe, as well as SIFE (Students IN Free Enterprise); an organization that teaches entrepreneurship to the community. SIFE was planning a trip to Canada for a convention and this is when Evis decided her life in Zimbabwe needed to end and a new path was necessary. She went and met with her family, told her parents of her intentions and with their blessing boarded a plan to Toronto.
Now, you must picture Evis. She is a very pretty woman standing around maybe 5" and, at this point of her life, approximately 90 pounds. She arrives in Canada and walks up to immigration. Two huge male officers in their safety vests ask her why she has come to Canada and without blinking an eye she says: "I am seeking asylum". Five hours later she is welcomed into Canada. At this time, Evis's sister lived and continues to live in the U.S. and because this is one of the few phone numbers she knows she places a call to her sister who in turn calls an acquaintance that helps Evis find a place to sleep. Evis remembers the shelter warmly as they were instrumental in helping her find a lawyer, get on social welfare and finally a place to live. Evis, being the enterprising individual she is found a job with a sports manufacturer that funnily enough made the iconic Canadian sports equipment: the hockey stick. Evis knew she wanted to better herself and get a degree so she worked hard, saved even harder and went back to school at Ryerson where she received a Business Management degree.
Next is the fun part. Evis remembers being 15 and her mom calling her a "Chicken Guru"; this was the only thing Evis liked to cook and maybe it was because it was her favourite thing to eat. The family had a farm and they were sustainable with chickens, pigs, corn and vegetables. Once the chicken was killed, Evis was the master cleaner and seasoned the bird to perfection. She then took it outside to the grill where it was flawlessly grilled. She laughs today, as she chats with me, because she now has her own food business. Upon hearing the news, one of her brothers questioned Evis: "when did you get good at cooking?" Yes, Evis cooked chicken, mostly because she ate it, but at the beginning she had three big sisters who cooked. Once her sisters left home, her brothers had no interest in cooking, which left it up to Evis. She was having none of that; she cooked poorly so she too could go out and play.
Evis says she really discovered her strength in the kitchen when she moved to Canada. Because she was missing the flavors of both home and mom's cooking, she had no choice but to get in the kitchen and make magic happen. She emailed and Skyped with her mom so that she could get the recipes and techniques to cook her family's traditional foods, which she knew would bring her comfort. Cooking began to bring her joy – a joy that she wanted to share with others; so, she began to host dinner parties and feed other expats. While cooking these meals she yearned for something new one holiday season and developed a recipe for Beef Wellington.
Now, you say to yourself, not too African, but do think about it. Zimbabwe was invaded by the British. However, Southern Africa includes countries like South Africa, Mozambique, Zambia, Namibia, Angola, Lesoto, Swaziland and Zimbabwe. Zimbabwe is the one that has food influence from the Portuguese, Dutch, British, Indian and South East Asian cuisines, and with that, Evis' birthplace brings a variety of foods and, as per usual, the country of origin took their spin on it. While playing with pastry for the first time, Evis asked herself, "What if I try to make traditional Zimbabwean Pie?" This was the early birth of Mnandi Pies, which translates to "Delicious Pies." It was a really difficult undertaking as meat pies in Zimbabwe are a street food and always are manufactured, similar to Jamaican patties, which are both based on the traditional English pie: The Cornish Pasty. Interestingly enough both use a very similar flavour base of nutmeg, allspice and sage. It took one year for Evis too perfect both the flaky pastry and filling.
Now, Evis has four gorgeous luxurious fillings of; beef and onion, beef and kale, chicken and mushroom, and carrot and kale. You can find Evis and her delicious pies at Market 707 www.scaddingcourt.org; Wychwood Barns Farmers Market www.torontoartscape.org; or visit her website.
Evis has been in the pie business for just a few years now and is already making 1200 pies a month. I can foresee her business will continue to grow as more people try these delights. I love keeping them in my freezer to have with a crisp salad for lunch.
On the day I went to visit Evis in her East Toronto home, we did not see, create or eat Pie, but what we did eat, I cannot wait to recreate for my friends. Evis made Nyama Nemuriwo: beef and kale stew; Muriwo Une Dovi: peanut stew; and the most glorious Sadza: white cornmeal pudding to sop up all the stews deliciousness. Let's get started on the recipes now:
Nyama Nemuriwo: Beef and Kale Stew
2.5 to 3 pound blade steak
½ large onion, finely diced
1 bunch of kale, washed, 3" of base removed and finely sliced
2 large beefsteak and 4 plum tomatoes, blanched, skins removed and roughly chopped. You can also use a tin of drained canned tomatoes.
2 cloves garlic, finely chopped
1 package Club House Shepherd's Pie Blend. This is the closest thing to the Zimbabwean spice blend but feel free to go on line to shop.
¼ cup olive or vegetable oil
2 teaspoons sea salt and pepper
Cut steak into 1" cubes, trim off excess fat only and remove bone
Heat a heavy, cast iron casserole and add oil once hot.
Add all the meat at once and start to brown. To this add salt, pepper and 1 teaspoon of the Club House.
Once the meat is browned place on the lid and simmer on medium high for 30 minutes or until tender. At this time add enough water so the meat is just covered.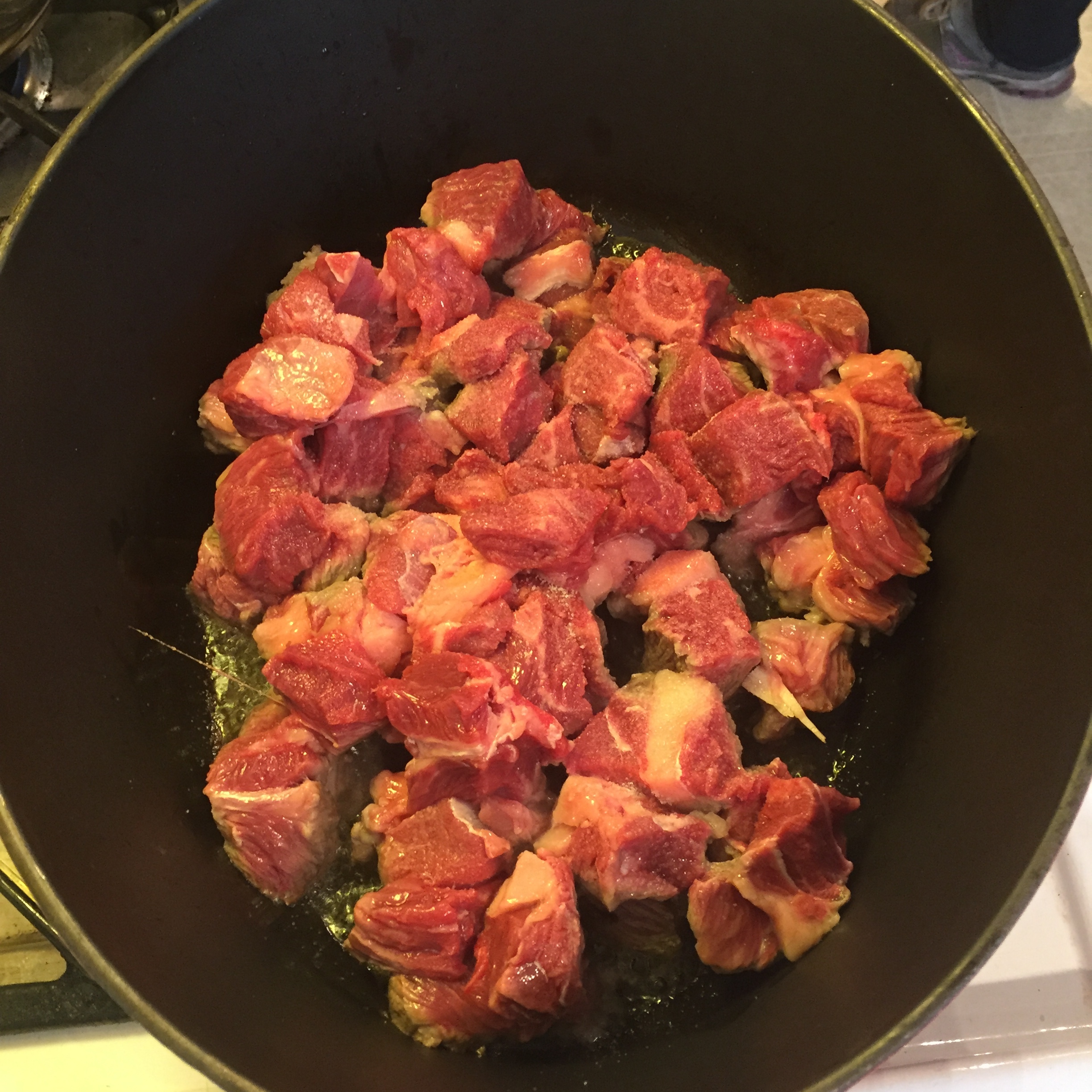 At this time add the garlic and cook for five minutes with the lid off. Proceed to add the onions and fry again for five minutes and then the tomatoes. Place the lid back on and let cook for another 30 minutes. By now much of the tomatoes will be dissolved and a lovely thickish gravy will appear.
Add one tablespoon of Club House that you have dissolved in ¾ of a cup of hot water. Let this bubble for 10 minutes until it starts to thicken up.
Add the kale and cook for 10 minutes.
The stew is now ready to eat.
Muriwo Une Dovi: Peanut Stew
Now this is really an incredible greens stew, flavoured with peanut butter, that is highly addictive.
1 bunch kale, washed, 3" of base removed and finely sliced
1 bunch rapini, washed, 3" of base removed and finely sliced
½ large onion, finely diced
2 large beefsteak and 4 plum tomatoes, blanched, skins removed and roughly chopped. You can also use a tin of drained canned tomatoes.
¼ cup olive or vegetable oil
2 cloves garlic, finely chopped
base of one stalk lemongrass, peeled and finely chopped
2 tablespoons of peanut butter mixed with 1 cup of hot water, blended until smooth
2 teaspoons sea salt and pepper
Heat a heavy, cast iron casserole and add oil once hot. Cook on a medium high heat.
Add onions and cook until translucent, about five minutes. Add garlic and lemongrass and cook for five more minutes.
Add tomatoes and cook for 10 minutes until they are broken down and very soft. Add the kale, rapini, salt and pepper, mix well as it wilts and leave to bubble for 15 minutes. Add the peanut butter mixture and bubble for five minutes. The stew is now ready to eat.
Sadza: White Cornmeal Pudding
Sadza, like its neighbour Fufu is a way to transfer messy things like stews from plate to mouth as in African nations like many others food is eaten with the right hand without the benefit of utensils. I must say is was great fun and I want to eat this way often.
3 ½ cups white semolina plus 1 tablespoon
1 ½ litres of water plus ¼ cup
I want to warn you in advance: this is not easy and is also a little dangerous because when you bubble this pudding-like mixture on high heat, it tends to spatter. I suggest you wear a long sleeve shirt while making this. It is a really cool consistency when done; almost like fluffy play dough.
Bring to a boil all the water and 1 cup of semolina, stirring constantly. Lower the heat from high to medium high once the mixture begins to bubble consistently. This should take around 20 minutes.
Add ¼ cup of water mixed with 1 tablespoon of semolina, continue to stir until it returns to the boil. Place a lid on top and allow it to bubble aggressively for 20 minutes.
Add another cup of dry semolina and here comes the crazy part. Beat the mixture hard, using your muscles, do not let any lumps form.
Watch Evin in the process below:
Repeat this one more time. We have now added 3 cups plus 1 tablespoon.
Now add the last ½ cup of semolina and beat and beat. It will begin to appear really light and fluffy, almost pillow like. Beat for at least 10 minutes.
When it is fluffy, place the lid on top and steam for 5 minutes or while you plate the stews.
In Zimbabwean families and with friends each dish is placed in the middle of the table and as a community you eat. I will leave it up to you to decide how you would like to eat this incredible meal but I did have a good time so maybe you might want to give it a go.
Please check Evis and her Mnandi Pies out and have a look at all the fun photos. If you do try these great recipes out please let me know your thoughts.