My friend Ema Costantini is a blast.



by Joanna Sable | September 2016
Really, I mean it. She is one of those people you instantly gravitate to. She is Italian and, at the risk of sounding stereotypical, knowing Ema is like having a big pasta hug. She has the most wonderful gestures and despite being the age of a Mama, she behaves like a Nonna.
Ema is a chef teacher at George Brown College in the evenings. If you are lucky enough to take one or more of her courses, not only will you learn a ton, but, you will also take home dinner for a family of four.
Growing up in Italy, Ema became the cook in her familyout of necessity while in high school. Her mother was a teacher and didn't get home as early as everyone else. She honed her cooking skills during University and as Ema says; "I gained a freshman 20 pounds not 10"! Ema was studying law, and for those of you who have either studied law, or been a parent of one who does, you know it is a "soul sucking" experience. Ema realized she had to eat healthier and she also needed a creative outlet to get lost in and help nurture her soul. Ema called her Nonna to get recipes, and Nonna gave them as best she could along with the procedures being that she had never created anything from a recipe. Ema, being in the world of law, procedures came easily.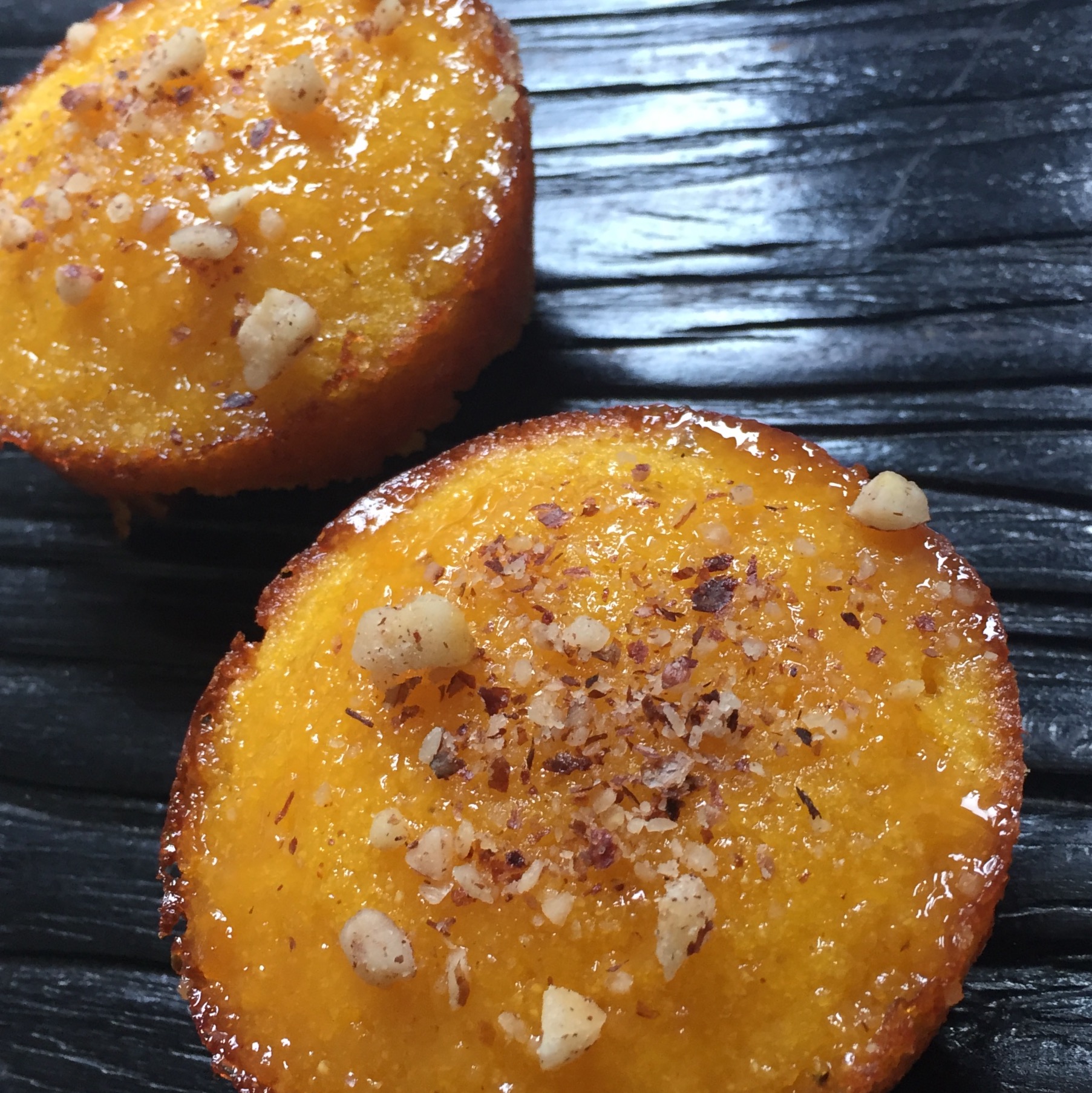 As a gift for when Ema graduated law school her parents gave her a year to study English abroad. The choices were San Francisco or Toronto. Being that there were family friends in Toronto, Ema chose here. She didn't realize the weather opportunities the latter had, however, personally, I am very happy she didn't and landed here.
Ema finished her studies in six months and decided to work in a pizza joint to practice her English. Being that she loved to volunteer it was a natural fit to offer her services to Stop 103, which has evolved to The Stop. This is an incredible program that teaches, helps and feeds the less fortunate. Ema was the dishwasher for a cooking class, and personally I think this was the beginning of her love of teaching and imparting knowledge.
Ema fell in love with Canada, "this is a country where you can reinvent yourself. It is organized and respectful. It is second nature in Canada to be safe and good."
Before Ema left the law in Italy she had hopes of being an Anti-Mafia judge. This decision lasted a very short while as she found out Anti-Mafia judges do not live very long. I believe this is why Ema loves Canada as she does. She jokingly says how she loves Canadian politics because it is not dramatic and insane.
To stay in Canada Ema went back to school for International Marketing and Relationships. Once finished the programme she found a job with Maranello Motors in Woodbridge. Ema lived downtown and it took one hour each way to get to work. It is no surprise that the owners fell in love with her, as she puts hard work, passion and dedication into everything she does. During the 7 years Ema worked for Maranello Motors, the owners helped her get her permanent residence papers. At this point she had learned everything she could and was bored again. With her love of cooking still strong she decided to go to George Brown and become a chef. While there, again her hard work was noticed and as soon as she graduated the school took Ema under their wing and offered her a teaching position. The rest as they say, is history.
One of Ema's most popular courses is pasta making. Yes, she is a chef but she is also a Great Ethnic Home Cook and so we are lucky enough to have a duo person who can guide us through the nuances of pasta making. Buckle in for the ride.
We made Spaghetti al Chittara from Ema's pasta, which basically is when you take sheets of pasta and press them through a box with strings that resemble a guitar.
For the spaghetti, you will need:
100 grams semolina. Ema uses Rimacimata. This is very finely ground semolina but she says regular will work just fine. I personally like the regular as it gives a nice bite to the finished dish.

300 grams 00 flour, this is a super finely ground flour and all purpose will work well if necessary

4 large eggs, we are both huge fans of omega rich organic eggs as they have a much better taste the yolks are a bright yellow
Method:
Mix flours together on a large wooden board or counter. Remove 4 tablespoons and reserve in case they are not needed. Form the flours into a circle with high walls and a well in the middle.
Crack eggs into a bowl. I always do this to make sure the eggs are all good and no shell gets into the finished product.
Add eggs into the well and with a fork slowly mix and incorporate the flours keeping the walls up until the end.
Once everything is incorporated use a bench scraper, or metal spatula to mix and form into dough. Before you begin to knead the dough, scape the board clean so no little dried bits of dough get into the pasta ball. Cover the dough to rest just for the amount of time it takes to walk to the sink, wash and dry your hands. Now it is time to get your hands in there. Brace yourself, it is workout time, Ema does lunges and pecs while kneading and has named this exercise routine "pastasize." Knead the dough on one side only using the heel of your hand to press the dough while the other hand pulls it towards you. If this is hard to understand YouTube it for reference to kneading styles. This exercise programme must be done for 10 minutes.
You are working the gluten and creating elastic velvety dough. Once this is done wrap it in cling wrap and set aside. A quote from Ema, "Nonna says the wrapping and resting will refine the dough". The dough needs only 10 minutes rest. Now divide it into four pieces keeping the remaining 3 covered as you work the first. Have a little pile of flour or semolina off to one corner of the board to help if the pasta should stick. Press the dough flat and begin to pass it through the pasta rollers. You should be on the widest setting and the dough should pass through this setting folding and rolling. Try to get the dough the width of the roller for nice wide strips. Now move onto the next setting. At this point if the dough starts to tear, flour a little and move back to the widest setting. Each setting the pasta should be rolled into thirds and run through the rollers at least 4 times. Do this same procedure to all the quarters and let the pasta rest flat covered for again for 10 minutes before turning the pasta machine around and cutting into your favourite size.
Please note that if you want to add herbs or flower petals to your pasta, I like to do so as it is going through the second set of rollers. I sprinkle the dough with flowers fold unto itself and start rolling again. Do make it plain a few times first to get the hang of it.
Now, as I said Ema used a chittara but I also like hand cutting. Cooking pasta is so easy, a large pot of water with enough salt that it should "taste like the sea". The reason the water is so heavily salted is that fresh pasta has no salt. Cook for just a few minutes, taste for the texture you like, drain and add to your sauce. Our sauce for the day could not have been more delicious or simple.
Cherry Tomato Sauce
The great thing about cherry tomatoes is that yes, they are incredible in the summer but are quite tasty all year long.
Ingredients:
1-pint cherry tomatoes

½ cup good olive oil

1 large handful basil, washed and dried

1 fresh chili, optional

1 clove of smashed garlic

sea salt and pepper to taste
Method:
In a large frying pan heat oil with garlic and chili, when the garlic begins to smell add cherry tomatoes and cover so it doesn't sputter and make a mess. Once the tomatoes are in the pan, lower the heat to medium and cook covered for 10 minutes. Once done add the basil by tearing it into pieces, season with sea salt and pepper.
Ema uses the same pasta roller her Mama did as she absconded with it one trip back home. It is still in the same bag from a shop in Italy and covered by the same ratty piece of plastic because some things should never change.
Please enjoy Ema's story and do check her out on instagram @hotpotsandchocolate
Let me know your thoughts and please do not hesitate to ask questions.